When it comes to fishing for trout, fly tying is essential. Fly tying allows you to create custom patterns that imitate the insects and aquatic creatures trout feed on. In this comprehensive guide, we'll explore the best fly tying patterns for trout step by step. 
Whether you're a seasoned fly tier or a beginner, these fly fishing patterns for trout will help you enhance your angling experience and increase your chances of a successful catch.
Fly Tying Patterns: Artful Fly Tying Recipes Craft Inspiration and Imitation
Fly tying is the process of fly tying realistic flies used in fly fishing. These flies mimic the appearance and behavior of natural insects, making them irresistible to trout.
The craft combines skill, creativity, and attention to detail, making it a rewarding and relaxing pastime for anglers.
Types of Fly Patterns Trout Flies
Several types of fly patterns are commonly used for trout fishing. One of the most popular types is the dry fly pattern. Dry flies are designed to float on the water's surface and imitate insects that fall onto the water's surface.
They are often used in calm, slow-moving water where trout will likely rise to feed. Another type of fly pattern is the streamer.
Streamers are larger, more imitative patterns typically fished below the water's surface. They imitate larger prey, such as minnows or leeches, and are often used in rivers or streams where trout feed more actively.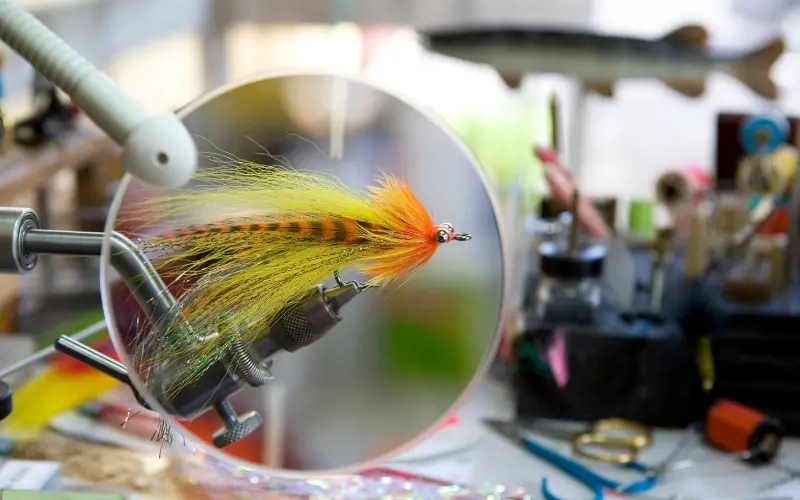 Lastly, there are nymph patterns, which imitate immature insects that live in the water. These patterns are fished below the surface and can be very effective in deeper pools or fast-paced, turbulent water.
In conclusion, a variety of fly patterns can be used when trout fishing, each designed to imitate different types of prey and attract trout in other water conditions. 
The 10 Best Fly Tying Patterns: (Favorite Dry Flies)
Let's dive into fly tying and discover the top 10 patterns to elevate your trout fishing game. Each pattern has unique characteristics, making it suitable for various fishing conditions and trout species.
Nymph Patterns: Fly Tying for Trout Beginners
Nymphs are aquatic insects in their early stages. They are a staple in a trout's diet. Learn to tie realistic nymph patterns to imitate these underwater delicacies.
Nymph patterns like the Pheasant Tail Nymph and Hare's Ear Nymph are highly effective in catching trout, especially in rivers and trout streams.
Dry Flies: Mimicking Mayflies
Dry flies are designed to float on the water's surface, imitating adult insects. Mayfly nymph patterns, such as the Adams and the Elk Hair Caddis, are ideal for targeting trout during a hatch.
Wet Flies: Fishing Beneath the Surface
Wet flies represent insects emerging or trapped beneath the water's surface. Patterns like the Soft Hackle and Woolly Bugger are excellent fly choices for trout lurking below.
Streamers: Imitating Minnows
Streamers mimic small fish and are perfect for attracting larger trout. Try patterns like the Woolly Bugger and the Muddler Minnow when aiming for those trophy catches.
Caddis Patterns: Matching the Caddis Hatch
Caddis flies are a trout favorite. These patterns, such as the Elk Hair Caddis, imitate caddisflies during their emergence, making them irresistible to hungry trout eat.
Emerger Patterns: Capturing Pre-Hatch Moments
Emerger patterns imitate insects transitioning from aquatic nymphs to adults. Trout often targets them during this vulnerable stage. Patterns like the RS2 and Zebra Midge are effective choices.
Bead Head Flies: Adding Weight to Your Fly
Bead head flies provide extra weight, allowing your fly to sink quickly to the desired depth. They are versatile and come in various patterns, making them a valuable addition to your fly box.
Salmon Fly Patterns: Targeting Bigger Trout
Salmon fly patterns like the Stimulator and Royal Wulff are excellent choices if you're after trophy-sized trout. These large, attention-grabbing flies can lure in the big ones.
Terrestrial Patterns: Mimicking Land Insects
Terrestrial patterns imitate insects falling into the water from the surrounding vegetation. Beetles and ants are typical trout snacks, and patterns like the Dave's Hopper can be highly effective.
Unique and Innovative Patterns: Crafting Your Signature Flies
As you gain experience, you can develop custom patterns to match specific fishing conditions and preferences. Experiment with various materials, colors, and sizes to create unique and effective flies.
Favorite Nymphs and Wet Flies
Nymphs and wet flies are two of the most popular fly fishing patterns, and for good reason. They are both very effective at catching fish, and they can be used in a variety of different water conditions.
Here are some of my favorite nymphs and wet flies:
Nymphs: Pheasant Tail Nymph
Hare's Ear Nymph
Prince Nymph
San Juan Worm
Pat's Rubber Leg
Wet flies: Woolly Bugger
Black Gnat
Elk Hair Caddis
Adams
Royal Wulff
These flies are all relatively easy to tie and can be very effective at catching fish of all sizes. I recommend selecting these flies in your fly box, as they cover many fishing situations.
Fly Tying Videos: Dry Flies Tying Instructions
Dry flies are a popular type of fly used by fly fishermen. They are designed to mimic adult insects that land on the water's surface. Fly tying videos on dry flies are an excellent resource for beginners and experienced anglers alike.
These videos demonstrate the step-by-step process of creating different types of dry flies, from selecting the suitable materials to tying the various components together.
Watching these videos allows anglers to learn different techniques and better understand the fly-tying process. They can also inspire the creation of unique patterns and variations.
Additionally, fly-tying videos often include tips and tricks for improving the effectiveness and presentation of dry flies on the water. Whether you're just starting or looking to expand your knowledge, dry fly-tying videos are invaluable for any fly angler. 
Best Flies for Trout Fishing (Best Trout Flies)
Trout are known for their selective feeding habits, and the success of your trout fishing trip often depends on using the right flies. The best flies for trout fishing can vary depending on the time of year, the specific trout species, and your fishing location.
Here are some of the most effective trout flies that you should consider:
Commonly Asked Questions about Fly Fishing Streamers and Canyon Caddis (FAQs)
Conclusion
Fly tying is a captivating and rewarding aspect of trout fishing. These top ten fly tying patterns for trout cover a range of fishing scenarios, allowing you to adapt to different conditions and target various trout species. Whether you're a beginner or a seasoned fly tier, mastering these patterns will undoubtedly enhance your angling experience and help you land more trout on your line. So, pick up your vice, select your materials, and start tying these fantastic patterns to elevate your trout fishing game. Happy fishing!
You might also like