Can you use a regular fish finder for ice fishing? And want to know if a traditional fish finder is good enough for ice fishing? If so, then this guide is perfect for you!
This guide will inform you of everything about using a regular fish finder in the winter.
You'll learn what features are essential and which ones aren't that useful.
We also have some tips on using your fish finder more effectively when it comes time to go out on the ice. So if you want all of this information, keep reading!
Let us help make sure that your first trip out onto the ice goes as smoothly as possible by giving you all of these helpful tips and tricks.
All we ask in return is that after reading our guide, please share it with anyone else who might benefit from learning about using a regular fish finder during the winter months. Thanks again for stopping by today – we hope our guide helps make your next trip out onto the ice an enjoyable one!
5 Best Ice Fishing Fish Finders and Flashers in 2021
Will a fish finder work through the ice?
Yes, you can use a fish finder to shoot sonar directly through the ice. You have to make sure the ice is clear and has a smooth surface with no air between it and your transducer. 
This is called a "glaciated" condition. The denser the ice, the more it affects the unit's performance. So it's best if you can find a spot with water under the ice. That will ensure you have the most transparent path possible for your sonar signal to travel.
Do you need a fish finder for ice fishing?
You don't need a fish finder to ice fish, but it sure can make your fishing trips a lot more enjoyable. a Fishfinder could help you find the fish faster and frequently spotting them on your screen before they even know you're there.  
Once you start using a fish finder, the other fishermen on the ice will want to know how you're spotting all of those fish. And you probably want to know how they're finding their fish too, don't you?
How to use a fish finder for ice fishing?
So you've got your fish finder, and now it's time to use it. Well, after a few minutes of experimenting, you'll probably get the hang of it. But since you're reading this guide, we want to make sure that your first ice fishing experience with a fish finder goes as smoothly and as quickly as possible.
There are two techniques to use when you first start using your fish finder to ice fish. They are as follows:
The first one will be short-range, close-in targets that you can't see. With this technique, you can quickly survey (or pan) your chosen area of ice for fish activity. This is the simple way to find the fish when learning how to use a fish finder in ice fishing.
The second technique is long-range scanning of the ice. This is better for finding thin ice, open water, or more distant fish activity.
How do you turn a fish finder into ice fishing?
This is really up to you. You can modify your fish finder for ice fishing in several different ways. For example, if you have a portable fish finder, you can configure it to be used as an ice fishing unit. But there are little steps you'll need to follow to get it set up correctly.
Make sure the transducer is clean and free of debris, especially any dirt or ice that might be stuck in between the screen and transducer. If ice is stuck, use a hot cup of water to gently melt it away so you can get a perfect look at the transducer.
The best way to fish through the ice is with your fish finder's widest angle. So we recommend setting it to 45 or 60 degrees unless you find that doesn't work best for your particular unit and ice conditions.
Put your portable fish finder ice fishing anywhere you can reach it best – usually on the floor, but sometimes ice anglers put their units on top of their hut or even drill a bore in the ice and put it there. It's best not to hold your unit in your hand, as that can cause the best signal to become blocked.
Ice fishing fish finder vs. flasher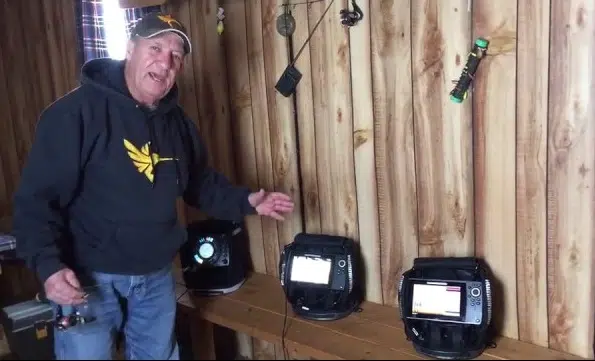 How are a fish finder and flasher different? A fish finder graph has the advantage of being easier to understand. If you have ever used one on open water, it's just one less thing to learn about when using them in ice fishing.
The flashers do come with more real-time information, but modern-day ones cater towards ice anglers, making use much more straightforward for these people!
A fish finder is an electronic device used to help you locate and catch more fish. There are two kinds of devices, one with a sonar display that uses sound waves (depth only) and the other with GPS technology which provides information on what lies beneath your fishing spots such as structure or aquatic life forms like small fishes called "baitfish." A modern device has a full-color LCD screen, while some older models have LED screens. 
The significant difference between these two kinds is how they work: Sonar-based units use the reflection from pulses sent out by transducers mounted at both ends underneath the boat hull, whereas GPS ones rely on radio signals emitted by satellites orbiting around Earth's poles. 
Both provide different prices for similar features, so it is best to weigh them up against each other before purchasing the best fish finder for ice fishing.
A flasher device is a different piece of ice fishing equipment. It is best used as a more efficient and accurate alternative to a fish finder for ice fishing.
Our best recommendation is to use a fish finder and flasher together. They both do different things and can work best as a team.
Are ice fishing flashers worth it?
There is lots of ice fishing flasher models to choose from. You can find the best fish finder for ice fishing that is much more accurate than the best ice fishing flasher.
Since ice fishing flashers are so affordable, they are not only excellent ice fishing accessories but are ice fishing essential for ice anglers who ice fish on a budget.
In addition, ice fishing ice flashers are portable ice fishing gear that is easy to set up and simple to use.
Boat fish finder for ice fishing
There are a few options for ice fishing with a boat. One way to ice fish is by drilling holes in the ice and fishing from your hut. The other ice fishing method uses a portable ice fishing hut that can be moved from spot to hole.
You can use both ways with a boat fish finder as long as it has a transducer meant for the purpose. In some cases, some ice fishermen use a portable fish finder as their boat fish finder. In other cases, some anglers prefer to use a separate flasher and fishfinder when ice fishing from a boat.
Sale
Bestseller No. 1
Sale
Bestseller No. 2
Sale
Bestseller No. 3
10 Best fish finder for ice fishing
When you're ice fishing, finding the best fish finder for your needs is significant to ensure you get a great catch. We recommend using a fish finder with GPS technology so you can see what's under the ice and get accurate readings.
Here are The top 10 ice fishing fish finders
Fishfinder for ice fishing and open water (ocean fish finder)
With the budget-friendly price of this fish finder for ice fishing, it's hard not to include it in our list! Deeper has designed this fish finder for ice fishing that doubles as a great open water ice fishing tool. 
This best fish finder for ice fishing has a fantastic 5-inch color display, one of the largest found on this list. Not only does it show you what's directly beneath your ice fishing hole, but it also helps you locate the best fishing spots with its built-in GPS feature.
If you want to save money and purchase a Combo Pack, Deeper offers a great deal, including a flasher and fish finder for ice fishing. We also recommend checking out the other Combo Pack options from Deeper.
Another great choice is the Lowrance Ice Fishing System. It has a 4-inch screen and a built-in GPS feature that shows you the best fishing spots displayed as contour lines. In addition, it has a clear picture so you can see all the details of a fish's location beneath the ice. This option has a great price and is excellent for both experienced and novice ice anglers!
Boat and ice fish finder
Almost any portable fish finder can shoot sonar through the ice, as long as it has a power source and the transducer is set up correctly with a tight fit to the ice.
For this reason, we recommend using a portable fish finder with boat and ice fishing capabilities. With the Garmin Striker 4cv Combo Fish Finder With Transducer, you can ice fish and do boat fishing! 
Garmin striker 4 ice fishing find
This fish finder is waterproof and works both in open water and through the ice. In addition, it has a patented, easy-to-use interface that makes it simple for anyone to use, even if you're new to fishing or ice fishing.
The Garmin Striker 4, part of our famous line of fishfinders and sonar GPS technology, now features an integrated 3.5″ color OLED display for easy viewing with 8+ hours battery life. 
An all-new 'Echofinder Zoom' gives you the ability to quickly zoom in on details such as structure contours – perfect for fishing – plus enhanced echo performance has been improved, making it easy to see what is going on underwater during your quest. 
Includes a transducer compatible with traditional sonar methods and connects to various trolling motors or can be used as a GPS Plotter Lidar system. In addition, our patented DownVu scanning sonar renders crystal clear images below the boat without buying multiple sonar devices. 
The 4cv can be used in freshwater or saltwater for ice fishing, kayak fishing, boat fishing, and more. There are a lot of fish finders beneficial on the market for ice fishing. These top products will help you find and catch more fish to enjoy a successful day of ice fishing!
Are portable fish finders any good?
Portable fish finders are great for temporary mounting on small boats, taking trips, and fishing from shore. However, they are not ideal for larger yachts or permanent installation. 
Portable units are small and lightweight, so they are easy to take on the go. Portable fish finders are also very affordable, so you can easily own multiple units for various applications. 
However, they have small screen size and therefore have difficulty showing you what is going on beneath the boat. If you are fishing in clear waters with minimal obstacles, a portable fish finder can work. 
However, for more advanced fishing experiences, you should invest in a larger permanent display.
Most portable fish finders are designed to be used on a boat or through the ice. However, note that this does not mean they cannot be used for ice fishing and open water. 
Why is a flasher better for ice fishing?
Ice fishing with a flasher is an exciting way to catch fish. A circular screen displays depth and fish activity with your lure. If you have ever been interested, then now is the time to take the plunge.
A flasher is a portable fish finder designed for ice fishing. It has a circular display and was initially created to replace sonar scanners. 
Sonar scanners are large, cumbersome, and expensive to replace if broken. In addition, ice fishing is a hazardous sport with any equipment. This is why a flasher is designed to be compact, sturdy, and affordable.
Frequently Asked Questions about ice fishing fish finders (FAQ)
Final Thoughts
The quick answer to the question Will a fish finder work through the ice? Is yes, but it's not as easy as you might think. There are three different types of fishing situations where a fish finder can be used that have nothing to do with being in open water or on an ice-covered lake. 
You see, one situation involves using your boat, and another consists in walking along shorelines during the winter months when lakes freeze over for ice fishing. 
And then finally, if you have a portable flasher-type device that features mapping capabilities and GPS technology, this too could potentially function effectively while being placed under the surface of snow-covered waters or icy lakes–even though they don't typically come equipped with sonar technology.
You might also like: