This fly fishing sling pack review will get you your pack by the end of it. Yes, you have read it right. We want you to just concentrate on this guide for the next 10-15 minutes, gather as much info as you can, go through the lists of the best fly fishing sling pack, backpack, and chest pack for fly fishing, etc., and just pull the trigger on the one you like.
If you are in A hurry! check the below Summary of Our Favorite Picks For 2021
Quick Comparison
What Is a Fly fishing Sling Pack?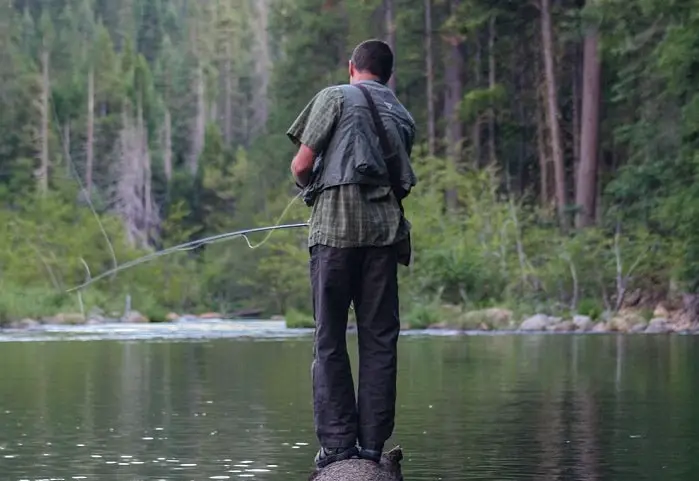 If you have seen a regular sling bag then that's exactly what the best fly fishing sling is but most of them have waterproofing.
You can use it as a backpack or chest pack because you can wear it both ways depending on your level of comfort.
The best sling pack comes with a shoulder strap in cross style where one strap goes over the shoulder while the other goes under the second shoulder and you fasten both halfway across the chest or back.
The Best fly fishing sling packs allows you to have all your important gear stay with you and within an arm's reach.
People who complain of neck pain after wearing fly fishing packs can benefit from a sling pack as it hangs around the shoulders.
---
Do You Need a Special kind of Fly Fishing Sling Packs? " Fly fishing gear "
Yes, you do! If you opt for the regular sling pack for fly, you will still be able to use it to keep your fly fishing gear safe and dry.
However, it will have two major issues;
Firstly: it will not have pocket sizes or shapes needed to safely store fishing gear.
Secondly: It will not be a waterproof sling, this means time to time, water will go into it, wetting your fishing gear, damaging any electronics you might have inside.
On the other hand, fishing sling packs are specially designed to store and protect fishing gear. You can wear one and go about your angling without any worries.  
What Makes the Best fly fishing sling packs Worth The Money?
There are many things that make the best fly fishing sling pack worth your money.
water resistance: This is the most important part and the main reason why you even need a fly fishing pack. Your gadgets and tools, especially those that are made of metal will be protected from water.
Comfortableness: You will also be wearing the pack for several hours as fishing sessions take a very long time. During this period, your either shoulder can start to ache if the pack is not comfortable. Fly fishing sling packs are designed to be comfortable, adjustable, and breathable so your shoulders can stay light and pain-free.
What to Look for When You're Buying fly fishing sling pack ?
Pockets: More than the number of pockets, you need to look for how these pockets are placed and divided into separate compartments.
Having four or more pockets is great but. Are these pockets divided into different compartments so you can organize your fly fishing gear and water bottle?
Adjustability: One thing that we always stress whether it's the best fly fishing sling pack or any other wearable is comfort. And comfort relies heavily on adjustability. You need something that perfectly hugs your body without being too tight or loose.
Material: Some are made of welded plastic, while some leverage canvas and whichever material type you go for, it should be sturdy and water-resistant.
Durability: Whether you are a newbie or a seasoned angler, your bag must hold up to the elements of different environments like branches, mud splashes, or even thorns.
Having an extremely durable fly fishing sling packs means not having to buy another one for years.
Pricing: The prices of these sling packs go up to a few hundred dollars but that's not the point. The thing you need to consider is do you even need the features that come with expensive sling packs?
IF yes, then definitely go for expensive ones and if not, then opting for mid-range packs is just fine.
Top-rated fly fishing sling packs:
---
The
7

Best Fly Fishing Sling Packs 2021:
1-

Allen Gunnison Fishing Sling Pack review
We just cannot ignore this beautiful and sleek sling pack in the best fly fishing sling. It has a sporty look that shouts adventure from miles.
Let's see some features as well:
Two compartments provide ample space
Small pocket on strap for quick access
Made of 100% polyester
Shoulder straps have breathable mesh pads
Adjustable buckle for comfort
water bottle pocket
shoulder strap
---
2-

Orvis safe passage guide sling pack
Want something small but spacious? Well, try out Orvis safe passage guide the compact yet large capacity pack that you can hang around your shoulder and go about your angling for hours. IT's comfortable and highly convenient.
Back panel is molded for body heat dissipation
Large capacity can accommodate all your gear
Shoulder strap has forceps sheath with magnetic anchor allowing easy access
Internal VELCRO strip allows waterproof sling  pocket addition
water bottle holder
shoulder strap magnetic anchor
waterproof sling pocket
---
3-

Fishpond Summit sling fly fishing pack
Another best fishing sling pack: fly fishing backpack that has several pockets to conveniently store your gear and also hang your frequent use tools closer to your reach. Some features are:
Patented drop down cargo bench for fly foam attachment
Attachments for Hypalon and tool
TPE lash tabs to hold rod tubes
water bottle holder
Shoulder pad work station

---
4-

Simms Freestone Fishing Chest Pack
Need something different than the typical sling bags? Well then why not try out this fly fishing chest pack offered by an established backpack brand; Simms fly fishing gear? Have a look at some features:
2 zippered and 2 interior pockets
Water-resistant finish
Removable waist and chest straps
Weighs only 0.08lb when empty
Water Resistant repellent finish
---
5-

Fishpond flathead fishing sling pack
If you need the best of both sling and chest packs then check out the flathead sling pack. It has a chest pack design with sing straps for comfortable wear. Let's check some features:
Made with 210D nylon fabric
Cross-body stabilization
Large clamshell opening
Quick access front magnetic pocket
Two water bottle holders
---
6-

Piscifun waterproof Sling Fishing Tackle Bag
Need something different in style while keeping the strapping mechanism similar to a sling bag? Say hello to the Tackle Bag. It stays secure on your back with both shoulder and waist straps offering greater protection.
Water-resistant and abrasion-resistant
Made with highly durable 1000D nylon fabric
4 zippered, 2 loop and hook and 1 mesh pockets
Breathable and ergonomic back pad
water bottle pocket
shoulder strap
---
7-

KastKing Sling Fishing Tackle Backpack
A brand that is famous for making fishing tools including various rods, cannot go wrong with a fishing bag. The premium camo design KastKing sling pack comes has over 600 positive reviews on Amazon and comes with several features that are discussed below:
Made with durable, water resistant 600D polyester
Large space allowing up to 2×3600 size lure boxes
Several pockets for tool organization including front mobile strap
Designed like a fly fishing backpack but with a sling strap
water bottle holder
shoulder strap for comfort
Integrated molle straps to secure gear
---
Consider review below:
Orvis safe passage guide sling pack
fishpond summit sling
fly boxes for fly fishing
Lightbare Fly Fishing Vest Pack for Men with Pockets
---
Sling packs vs. Backpacks: Chest Packs & hip pack fly fishing
By now, you may already have a clear idea of what sling packs are; they go against your back in an angle with straps connecting on chest.
Now if you are to compare them with the fly fishing backpack, fly fishing chest pack and fly fishing hip pack then let me give you clear but brief differences below:
Backpack: The main difference is the size. Fly fishing backpacks can be very spacious but also very big which many fishermen don't want. Something as compact as a sling pack does a great job especially when you are angling on small kayaks.
Chest Packs: They are small and have a squared shape which can be convenient. However, the problem is that the main holding strap of the fly fishing chest pack goes against the neck, which can cause pain in the long run.
Hip Pack: These are great when it comes to accessibility. However, the flying fish hip pack doesn't have much space and it cannot hold heavy stuff. It can start sliding down the waist.
As compared to all of these packs, the sling pack is the best mainly because it only causes stress on one shoulder and when it starts to ache, you can shift the strap to the other should by bring the pack to your chest.
Plus, it offers ample space to safely keep all of your fishing gear well-organized at one place.
Best women's fishing sling pack:
Need the best fly fishing sling with a feminine touch? Well, then you have to try out the products we have lined up for you.
All of these sing packs are specially made for women who want their gear organized for the next adventure:
Top picked fly fishing hip pack:
If you need a bag to quickly access all of your frequently use tools then you cannot go wrong with the fly fishing hip pack.
It's convenient, it's small and it's very light. You can get all your most-used tools stored in it for quick and easy access. We have compiled a list of the top fly fishing hip packs below so make sure to check them out fly fishing gear:
Best Sling Packs Under $100:
You don't have to spend over $100 if you don't want to. Granted, these will be a few features short compared to the expensive ones, but they still can work if you don't have a lot of tools or are not going angling in tough terrains. We have gathered the best sling pack for just $100, so you can have a bang for your buck.
Looking For More Fishing Apparel?
Need something more? Perhaps something that you can use to complement your sling packs with? Well, even though it's a fly fishing sling packs review, we would definitely want you to have more fishing apparel at your disposal, so you are fully ready for your next big adventure. Let's see some more fishing apparel below:
Conclusion:
Fly fishing adventure needs a good Fly fishing demands storage packs that are easy to access and can survive rough and tough terrains. The various varieties with respect to prices, wearing methods, and features are readily available on Amazon, and we have listed the top ones in this article. It's not up to you to go through them and find the one that meets your needs.
You might also like:
Consider review below:
Orvis safe passage guide sling pack
fishpond summit sling
fly boxes for fly fishing
Lightbare Fly Fishing Vest Pack for Men with Pockets