How to Catch Rainbow Trout in a Lake? Most anglers have a hard time catching rainbow trout in lakes. The fish seem to be able to detect the presence of humans and are easily spooked by them.
We've all been there. You get your fishing gear together and head out to the lake with high hopes for an epic day on the water. Then, as soon as you hit the shoreline, things go downhill fast.
Lake Trout are a delicious legend, but they're also one of the most challenging & elusive fish in the freshwater angler's world.
They often act as if they've never seen a lure or bait before. At least that's what it looks like from my perspective!
The information in this trout fishing for beginners guide will help any angler learn how to catch more trout than ever before!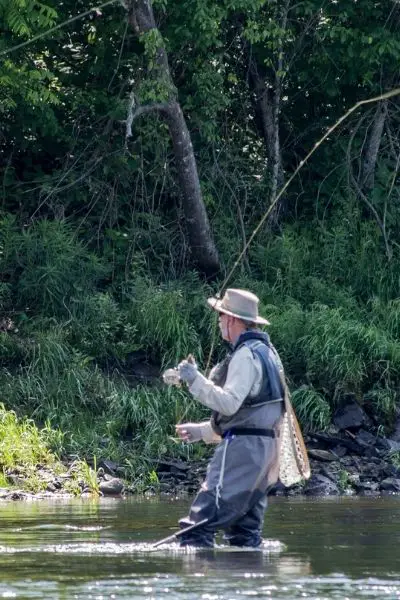 With these five tips, anyone can become a better fisherman and start reeling in rainbow trout like never before!
Top 5 Best rainbow trout lures (best bait for trout in lakes)
5 Trout Fishing Basics & Tips
So how do you catch rainbow trout in a lake? I'm here to share some tips for reeling in those big boys!
1.    Get the right gear
This is the number one rule to remember when learning how to catch rainbow trout. You can have the best lures, but if you don't have a well-made outfit with high-quality components, then you're not going to be successful. If your gear and tackle are of low quality, then that's all you're ever going to get out of it.
2.    Timing is everything
Lake trout are wily creatures, and they like to be in deeper, colder water when the weather gets warm. Many fishermen claim that April and May are the prime time to catch maximum numbers of these hard-fighting monsters!
The best technique to find them is by trolling with a sonar unit. They'll show up as large dark dots on display, but you have to be careful! Many fishermen say that it's essential to keep your distance and not get too close because if they see or hear you coming, they'll bolt for cover.
3.    Find out what fish are in the lake.
The first step is to detect what fish are in the lake. You can do this by visiting the local tackle shop, talking to other anglers, or searching online for info on specific lakes.
4.    Lure selection
You have to present your lures correctly when fishing for trout in lakes because you'll have a tiny window of opportunity before they take off after seeing your lure. Try using a smaller spoon or a small jig if you're an ice fisherman and the water is still icy.
If it's warm enough, try using a small crankbait as that seems to be the preferred food source of these fish when they are in open water!
5.    Find some structure
Lake trout love structures, especially wooden piers and docks, because that's where they like to hide. If you fish around these types of things, you should be able to find them for sure! Also, if there are any weeds in the area, it will make it very difficult to see your lure.
The next step is going to be getting your bait out to the trout. If you're in a boat, use a short cord or leader if you can get it so that your bait will match the depth of the fish.
Stay tuned for more fishing information involving how to catch rainbow trout in lakes! We'll have loads of great tips and tricks coming your way soon. So keep on fishing!
How do you fish for trout in a lake?
Do you want to catch more trout in lakes? If so, then be sure to go over the video that we have below. It is an excellent video about setting your hook and playing fish on an open water lake.
If you or anyone you know has caught a giant fish, please let us know by leaving a comment below! We would like to hear about your biggest catches ever. Enjoy the video, and good luck fishing!
Where do rainbow trout live naturally?
Rainbow trout are found initially in North America. These fish exist naturally throughout much of the United States and many other parts of Canada.
This is not only a popular game fish but also one that's considered to be a delicacy by many people around the world! That's why you see them in just about every pet store for sale.
As I mentioned earlier, the rainbow trout is native to North America, thriving in many of the mountain lakes and streams.
There are even some stories about these fish found as deep as 1600 feet below ground! Trout can also be found along the Pacific Northwest coast and down to Mexico.
There are many different species of rainbow trout that have been introduced into other countries around the world. You'll find them in places like New Zealand, Australia, and even Russia!
They've been spread out into so many different regions because there are people who want to try and re-form the trout's natural habitat.
What is the best bait for trout fishing in lakes?
If you want to catch lake trout, it's essential to know what bait they like best and when and where.
Lake trout primarily feed in the evening, so live nightcrawlers are a good option for some anglers who don't have access to other types of food sources such as salmon eggs or minnows that mimic their native prey.
With light lures being one way fish prefer to eat, stocking up on small spoons and spinners can be helpful if this information has been useful so far.
Recommended Baits for Trout Fishing:
Sale
Bestseller No. 1
Berkley PowerBait Trout Dough Bait, 4 count
Moldable and easy to Use
Floating formula enhances dispersion of Power Bait scent and...
4-Pack includes: Chartreuse, RAINBOW, fluorescent orange and...
Low profile dual regulator adjustable climate control
Sale
Bestseller No. 2
Sale
Bestseller No. 3
Sale
Bestseller No. 4
Sale
Bestseller No. 5
Bestseller No. 6
Bestseller No. 7
Berkley PowerBait Glitter Trout Bait, Rainbow, 1.75 Ounces,...
Irresistible scent and flavor developed by Berkley scientists for...
Floating trout bait disperses advanced scent and flavor enhancers
Rainbow-colored dough with Crystalina glitter reflects light and...
Helps make novice anglers good and good anglers great
Bestseller No. 8
Sale
Bestseller No. 9
Bestseller No. 10
How to catch big trout in lakes? (Lake trout fishing for beginners)
Did you know there are lots and LOTS of ways to fish for GIANT trout? I don't think anyone could ever count all the different types.
But, in lakes, three easy methods include: suspending bait under a bobber with worm or similar; fishing off the bottom where it is deep enough using worms (it's best if they have hooks); and retrieving spoons by casting them back out after skimming across top-level waters until they float up again.
Just remember that some states require anglers to purchase licenses at state parks!
How to rig for lake trout fishing?
In the summer, trout are typically deeper and further from shore because they look for cooler water to escape the heat. This video tutorial will teach you how to rig up the perfect tackle for catching trout in summer.
To target these fish, use a live bait float at about 10-14 feet deep to get your hook close. You'll want it just below that layer of cold water we call "the thermocline."
In this way, you can offer them floating baits like eggs or dough balls so that as they rise through warmer waters, their offerings will be mixed with colder currents below, which are where most topwater strikes come from anyway!
If you loved that video, be sure to check out our article Catch More Fish Easy with These Great Fishing Recommendations! Here.
How can you tell where trout are in lakes?
How to find trout in lakes? Head over where the water meets land if you're looking to catch some trout this spring or fall.
Trout are often found cruising near these transitions during these seasons, and they can be caught with a cast by fishing along with shoreline drop-offs and ledges on your way upstream.
In the summer months, when waters heat up, look for deep pools of cool water not so far away from shore that it's hard to serenely fish in them without putting any pressure onto the trout population there!
How to catch trout in a lake from shore?
The best way to fish for trout in a lake is from shore because this allows you to cast directly at them. Watch this video and learn how to catch trout in a lake from the beach.
Catching them from shore can be tricky because the best places to find big brookies are deeper holes and weedy areas.
The ripples and shadows from your boat can scare them away before you even get a cast-off, or they may avoid your bait if it is too close to the surface of the water where sunlight can penetrate cold waters below, making trout less likely to feed.
They generally don't like it when they feel pressure on them that comes from being approached by a boat or Jet Ski, so unless you have permission, I suggest going without a boat!
You can try a worm or minnow under a bobber, spinners, spoons (topwater / subsurface), salmon eggs, or jigs. (We have more tutorials on this exact technique that you might like to check out.)
How to catch rainbow trout in a stocked pond?
Trout is one of the most popular species that anglers target and catches from fishing ponds. When caught, they're generally more extensive than average-sized fish, and even if there is no legal size limit, it's best not to keep any less than fourteen inches long.
In the recent past, many states have caught onto the success of this species for stocking and now regularly replenish their waters with other species such as browns, rainbows, or even splake.
How to catch trout in a pond? (Here are some tips!)
Locate sunny areas of open water that get plenty of wind and keep casting back out when your baits are pulled away!
Watch for the rising rings from feeding fish. They will travel in a spiral-like pattern from where they have been feeding and can offer you good fishing locations to cast into next time you go out there.
When wading or floating, set your hooks when you feel a light tension on your line that may be coming from small browns. This tension is their way of taking a sample bite from your bait!
You can also get the same results using a fly rod, but learning to cast and mend appropriately for best results will take more time.
To hook onto bigger ones, you'll want to use the same techniques as with fishing lakes in this article.
How to fish for lake trout in the summer?
Fishing for lake trout in the summer can be a challenge. The fish aren't as active, and you'll need to use different techniques than when fishing for other trout species.
Lake Trout are predatory fish that can reach up to fifty to one hundred pounds apiece. They're also giant trout species that you will catch from freshwater, so if you want a challenge while fishing for trout, this is the species that I would recommend targeting!
#1: Use Baits with Smell (Fish Attractants)
Because they are predators of other fish species, you can use either a dead or live bait with a strong smell. The idea is for this scent to reach the senses of these trout and make them bite!
You might want fish attractants such as blood worms or even bits of hot dogs to get them to eat your bait.
Bits of corn or cheese can be thrown on top of the water and will sometimes attract these trout to bite. Other times you might not get anything but a few nibbles because they are picky about what they eat and when!
#2: Choose Your Location Wisely (Go Fish in Deep Water)
Lake trout often feed in deep waters, and it's not uncommon for them to be at the bottom of the lake. The only way you're going to catch them is by fishing deeper than sixty feet in depth during the day and twenty-five feet offshore in water that is no more than forty-five feet or so deep!
#3: Find Open Water That Gets Plenty of Currents (a River or Outlet)
The lake's bottom will often feature submerged river channels or outlets that will get plenty of current flowing. These spots are where you're likely to catch fish because colder water is heavier than the warmer water above it!
If you can find a spot that has open water but cold water under it, this is going to be your chance to catch some big lake trout!
#4: Watch the Falling Snow
During the winter, you can watch the falling snow and see where it's settling on top of the lake. This will be a good indication of cold water spots that you might want to visit during your ice fishing adventures! Find a fallen tree branch or even a downed tree and use it to push around the snow looking for openings in the ice.
#5: Find a Feeding Frenzy (Find Schools of Small Fish)
If you're out on the lake and see schools of baitfish swimming by, don't be afraid to cast into them because these smaller fish are right at the top of the lake trout's menu!
Keep your eyes peeled for small schooling baitfish such as shiners or dace that are between one-half an inch and two inches in size.
#6: Learn How to Fish for Lake Trout Year Round (In the Cold)
If you want to fish year-round, you'll need some special equipment and a good fishing vest or jacket to protect yourself from the bad weather. This will allow you to be out there even when it's cold outside!
You'll need to learn some special ice fishing techniques to do this, but it's well worth your time because if you catch a fifty-pound lake trout in the middle of winter, you're going to make headlines!
#7: Use Stronger Bait (Up Your Scent Game!)
Sometimes when fishing for Lake Trout, you'll only get a few nibbles here and there. This can be frustrating!
The best trackway to overcome this is by using bait with a stronger scent so you can reach the senses of these fish and draw them in your direction!
If you want to catch Trout in the Lake, I recommend trying hot dogs or blood worms for bait because they are much easier to attract!
#8: Don't Be Afraid Of Night Fishing (Lake Trout Are Nocturnal)
Sometimes your best chance at catching a big lake trout is at night when the sun goes down. You'll often find these fish swimming around near the bottom of the lake in the dark, looking for food to eat!
These fish are notoriously difficult to catch. If you try your luck at night fishing, I suggest using a powerful flashlight or even trying it during the early morning hours while there is still some light in the sky!
What to do when trout not biting?
Fish don't always bite. For those times, lures are a great backup plan! If you're looking to make excuses to try something new like crankbaits and spinners – or if the fish aren't biting at all with PowerBait – then changing up your lure can be the perfect solution.
If trout aren't biting, try using a smaller hook and lighter line. The smaller hook will make it harder for them to swallow the bait, so they'll spit it out more often.
The lighter line will give you a much better chance of feeling that bite when it happens. You won't have to keep track of a big bobber because you'll feel the nibble instead!
Just be sure there's no wind above the water – or your bait might float right into your face!
Questions & Answers about Rainbow trout Fishing (FAQ)
You might also like: