Fishing can either be interesting or appalling, depending on the bait you choose. Live bait such as salmon flies and stoneflies attract fish effortlessly, making your fishing experience much more exciting. So here we craft a quick comparison "Salmon Fly Fishing vs. Stonely"
And while these insects are at the heart of fishing, they are only available during specific months annually, aside from winter.
If you are a fishing enthusiast looking for a bait that's sure to attract fish to your hook, read along for more insight on how to catch bait and the resources you need to make your hunting success.
What are Salmon Flies?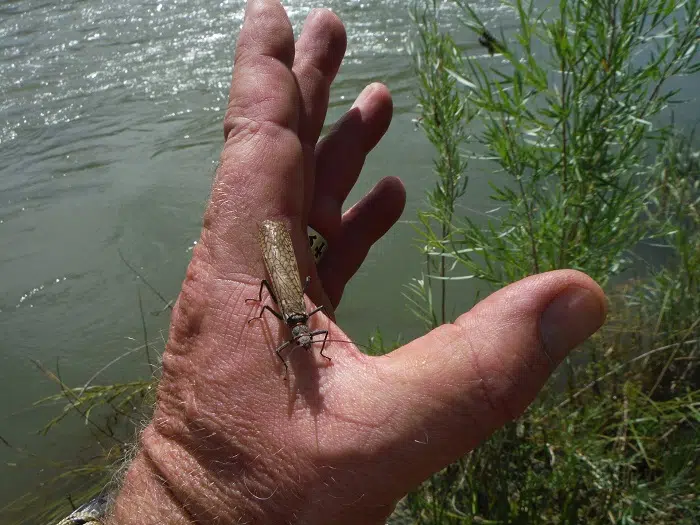 Salmon flies are insects that live in moderate to fast-moving water along the river banks. They thrive in environments that are neither hot nor cold.
Not only are these insects considerably big, but they are a delicacy that fish enjoy. As such, anglers use them as bait during trout and salmon fishing seasons.
Once salmonfly hatch into salmon fly nymphs, these insects latch onto rocks in the water. They spend the first three years of their lives in water but finally migrate to higher grounds when it's time to mature into colorful flies.
At this stage, the salmon fly migrate during the wee hours of the morning or at dusk and clasp themselves on logs and other debris along the banks. They hold on to anything that elevates them above the water level to facilitate their wings' breakout phase.
These insects are part of the detritivores family. Organisms that are in this classification feed on small debris in the river
What is the perfect time to harvest salmon flies?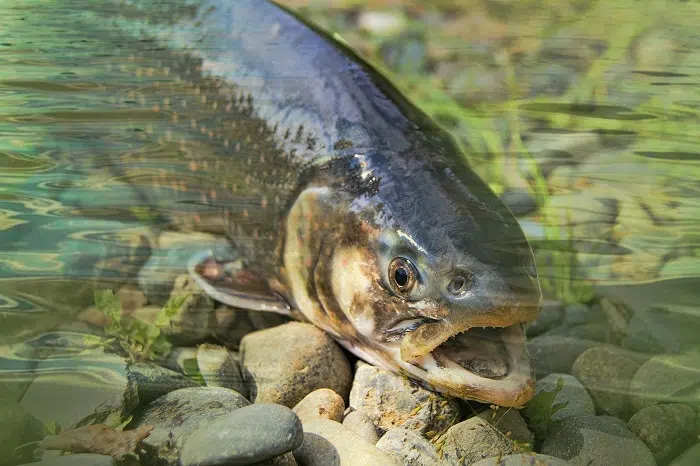 You can harvest these flies all year round apart from the cold season. There are three groups of salmonfly that are available during summer, spring, and fall.
These flies are usually small during their first year of life and may not attract the big fish you're after. You may want to observe salmon fly dry patterns within your region for more information about this.
However, if you wait until they are two to three years old, you will find several that have a decent size that will lure salmon and trout onto your hook. In fact, salmon snack on the older salmon fly nymph.
Adult salmonfly enjoy mating on the vegetation that's by the stream. This usually happens during the day when the temperature begins to rise. However, when it gets cold, these insects prefer to rest. Anglers who are looking to catch these flies should wait for their inactive time to catch them.
When is the best time to fish for salmon?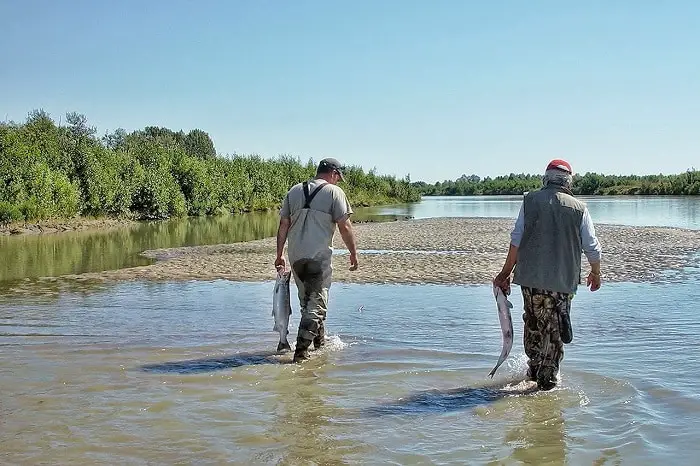 Most fishes, including salmon, taste better when they have some fat on them. Not only does the fat give salmon its distinct flavor, but it also has some health benefits to both animals and humans. Smolt is part of a salmon's lifecycle when it is still young, preparing to leave for the ocean.
Salmon this young have tender meat that cooks fast. Once they leave the river for the ocean, salmon spend anything from 18 months to 7 years in the sea. Afterward, they relocate back to the river to reproduce.
After spawning, these fishes usually lose a significant amount of fat, making them less tasty than smolts. As such, it is essential to fish for salmon before they spawn. As soon as salmons spawn, their skin changes from silver or black to red, making it easier for you to identify the tastier catches.
Additionally, they get weak and cannot swim back into the ocean to find food. A majority of these fish die after laying mating and laying eggs, but some survive this process. Those that survive are not as tasty since they do not eat as much, which means their fat content is minimal.
So, the next time you catch a red salmon, you might want to throw it back into the water if you're looking for both taste and health benefits from it.
What are the essential salmon and trout fly fishing supplies?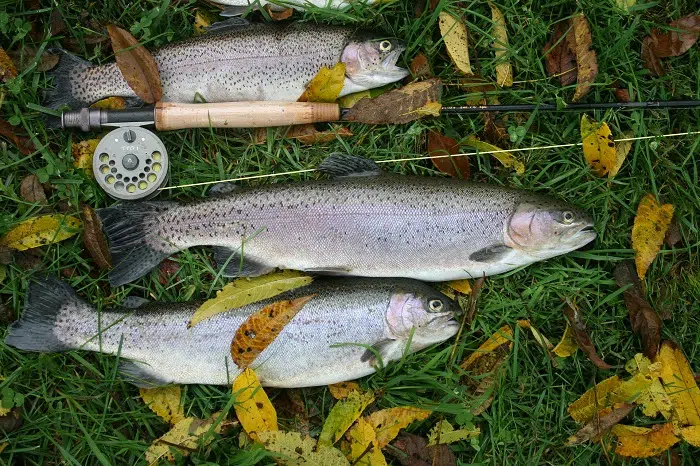 For you to catch salmon in freshwater, you need to find the bait and a hook that will keep it in place once it falls for your trick. 2/0 to 3/0 baits work best for big fishes like salmon and trout.
However, you can use 1/0 hooks for smaller fish of this kind. While you're at it, buy a sinker that will drown your bait deeper into the water where the salmon are.
Remember that: these fishes are quite intelligent, so you want to use a single instead of octopus hooks. It would be best if you had a strong hook to secure your catch in place once it bites the bait.
Salmon and trout feed on insects and smaller fish. If you try to lure them using dead bait, you may not achieve any results. These intelligent creatures can tell the difference between live and dead bait effortlessly.
So, you may want to use live salmon fly to attract your catch. And once you hook the fly to the hook, try and mimic the insect's swimming movement if you want to achieve success.
A strong fishing rod and thread are also essential when you're fly fishing. If you're looking to catch big wigs like the king salmon, you cannot risk using feeble rods with weak strings. You can shop on the internet for high-quality reels and rods.
At times, anglers lose their catch because they do not notice when the fish catches the bait. Consequently, the fish gets enough time to wiggle out of the hook, unknown to the clueless angler. As such, anglers need to get bobbers, making it easier for them to detect motion on the rod.
This tool moves on the surface of the water when the fish takes the bait and struggles to free itself, allowing you to pull your catch before it escapes.
Your bait needs a safe place to stay while you try your hand in fishing. Get a clean bucket and keep it aerated to avoid suffocating them. A little water and snack will keep your bait strong so that they work their magic once you throw the hook into the water.
Oh, do not forget to carry an extra bucket for storing your catch. Please keep it clean carry a cover that will help you uphold top-notch hygiene standards. Remember to carry a lot of patience because salmon and trout are elusive fishes.
Top-rated salmon flies for fly fishing
How do you hook a salmon fly to a fishing rod?
Once you have these supplies, choose a spot by the river where salmon frequent. Attach the sinker to the hook, then tie a fisher's knot to your hook. The last thing you want to see is your hook, salmon fly lure, and sinker sinking deep into the water because you didn't secure them onto the thread.
Hook the sinker to the rod between 6- 12 inches long above the hook. Anything less or more will cost you your bait.
Once the rod is intact, take your bait and hook it from the rear end.
This way, you slow down its death as you wait for the fish to fall for the prey. If you pin the salmon fly on the head, you risk killing it before serving its purpose.
Salmon fly Vs. Stonefly fishing
Trout love hiding in deep waters where they are less conspicuous from the site of predators. When these fishes are not resting, they are eating. They spend a significant amount of time snacking on anything they can dig their teeth into, all year round.
They specifically love snacking on stoneflies, which rule the underwaters. These insects crawl over the floor of the water bodies they inhabit, meaning that they constantly contact the fishes.
A stonefly can live up to 2 years as a nymph before it hatches into a fly. This insect can survive in any climatic condition as long as it isn't too cold.
Therefore, you can find it in both large water bodies and small ones alike.
On the other hand, salmonfly live in water bodies with moderate temperatures, with rivers being their favorite hiding spot. They live up to three years underwater before metamorphosing into flies from nymphs.
Some of these insects grow as long as three inches, making them visible to salmon swimming upstream. They hold onto boulders under the water and feed on debris. Considering that these insects love moderate to fast-moving water, it is unlikely to find them in large water bodies.


You can find stoneflies in most water bodies, and they feed both salmon and trout. They have a shorter life span than that of salmon fly.
Their counterparts, however, form habitats in specific waters even though you can use them as bait for both fishes. They are larger and easier to spot, therefore making them perfect bait options.
They also live longer, so if you harvest some from the river, you can keep them for months during the trout and salmon season.
Where and When to Fish Montana's Biggest Hatch
The Salmonfly hatch will be the main event of the year for all fly fishing anglers in Montana. There is no better time for you to target big and aggressive trout with dry flies compared to during the hatch.
The sheer size of the bugs is sufficient to coax even the biggest and baddest of Montana brown trout to the top, year in, year out. Ask any of our Montana fly fishing guides exactly what their favourite hatch to fish will be and you'll locate salmonflies at or close to the top of each and each list.
Bozeman is situated right in the center of the ideal salmonfly fly fishing in all of Montana. Even the Madison River, Gallatin River, Yellowstone River, Jefferson River, and many of our smaller streams involve some of the thickest hatches you'll find any place in the state.
What's pteronarcys californica?
pteronarcys californica can be just really actually a species of insect at your family Pteronarcyidae, the giant stoneflies and salmon flies. It's well known commonly as the giant salmon fly.
Take-Home
Salmon fly fishing is more effective than stonefly fishing because the former are larger and more attractive, making them irresistible. However, it takes more than just bait to catch fish. Ensure that you have strong and effective equipment that will compliment your bait for effective fishing this season.
Related dry fly fishing gear you must have:
dry fly fishing hooks
dry fly fishing hooks
fly fishing flies
You might also like: