Do you need a bite alarm for carp fishing? One of the biggest challenges is knowing when a fish takes your bait if you're new to carp fishing.There are two ways to know if a fish is biting or not: by feeling for weight changes on the end of your line or by listening for subtle movements in the water that indicate a bite.
The problem with using these approaches is that they can be challenging to master and require some practice before you get good at them.
A bite alarm solves this problem because it allows you to hear when a fish takes your bait, so you don't have to rely on other senses like touch or sight.
It gives beginners an advantage over more experienced anglers because they'll know what's happening even without experience detecting slight movement in their lines and rods.
Best Bite Alarm Sets for 2021 (Top 5 Carp Fishing Alarms)
What is a Carp Fishing Bite Alarm, and How Does It Work?
Bite alarms are devices that allow you to know when a fish has taken your bait while cat fishing or carp fishing.
They have different styles, but they all work by measuring changes in pressure. These devices can be attached to the rod itself, making it easy for anglers because they don't have to keep putting them back in their pockets when they bite.
A bite alarm has two parts: the rod attachment and the receiver. The rod attachment is either fitted into the end of your fishing rod or attached next to it with magnets.
This part measures changes in pressure, which allows you to know if a catfish or carp are taking a bite. The receiver needs to be nearby and works as the noise-making part of the device so you can hear what's going on with your line at all times.
Do carp bite alarms work?
There is much argument about the effectiveness of carp fishing bite alarms, but they are generally helpful for catching more carp if you know how to use them.
Carp usually only take one bite at your bait and then put it back in their mouth again because they're not sure if it's edible. Once you have set your hook and started reeling them in, they will continue to take your bait and swim away.
When you attach a bite alarm to your line, the fish are much less likely to spit out your bait because they'll expect it's not food if there is no noise going on with your rod and reel.
This means that carp are more likely to be hooked. Since a bite alarm won't help with staying on the hook after you've caught them, it's still important to know how to fix your carp fishing rig or even use an appropriate fishing line as well.
Do you need a Carp Fishing Bite Alarm?
The quick answer is yes, if you're a beginner Common Carp angler or catfish fisherman. These devices are helpful for carp because their bite isn't powerful, and catfish tend to nibble at your bait rather than taking it all in one bite.
They also come in handy when fishing for carp because they help you know what's going on even if carp are playing hard to get.
Are bite alarms good for carp fishing? ( Are Bite Alarms really necessary)
They work because carp take up to ten minutes to decide whether they want your bait or not.
This means that if you've been catfishing for a while without a bite, there's a chance you haven't done anything wrong, and the carp aren't interested in your baits.
This problem shouldn't be an issue when carp fishing because carp are much more likely to bite a shiny, new bait than one they've just seen you throw in once before.
Bite alarms solve this problem by letting you know immediately whether the carp is still interested or not so you can change your bait and try again.
Benefits of Using a Bite Alarm for Carp Fishing
If you're new to carp fishing, bite alarms will help you catch more fish. Knowing when something touches your bait means you can react quickly and set the hook before carp or catfish getaway.
The difference this makes is enormous because carp fishing gets harder as carp get warier. The same goes for catfish, which are more intelligent and stronger than carp and tend to bite lighter so they can get away quickly if someone pulls their bait too hard.
Using a bite alarm will also make carp fishing easier because you'll know when to set the hook on light bites.
There are carp anglers who set the hook on every bite they feel and lose a lot of carp during their early years.
This is because carp fishing gets confusing when there are too many bites, especially when you're pulling up lumps of weeds at times.
A bite alarm allows you to know precisely which bites deserve your attention so you can focus on carp and catfish.
How does a bite indicator work?
Bite alarms work by taking a sample of your line at regular intervals. When carp or catfish take your bait, there's a sudden pressure change which is detected by the rod attachment. The bite alarm then makes an alert noise to let you know about it so you can set the hook in time and catch more carp.
Other carp fishing bite indicators are designed to let you know when something is touching your bait. This sounds like a good recommendation, but if the carp or catfish constantly nibble your baits, these devices won't do anything for you.
There's also a design flaw with carp fishing bite alarms made in this way because they can only make noise while the rod is in the carp fisherman's hands. This makes carp bite alarms a little redundant, especially when carp fishing for carp, which are likely to move away as soon as they take your bait.
It's also crucial that carp fishing bite alarms measure pressure changes rather than movement because it means carp don't have time to get away before you set the hook. This is why carp bite alarms need to be sensitive enough to tell you when carp are nibbling your bait, rather than just touching it with their lips.
What to Look for when buying Bite Alarm for Carp Fishing?
There are several different types of bite alarms available today, but one thing they all have in common is that they alert anglers when their line goes under tension from an active strike by vibrating or making noise. 
You must be considering the following factors while purchasing carp fishing bite alarms.
How often does the alarm sound
What is the range of the alarm
Is it waterproof, and how deep can it go
Is there any technique to turn off or mute the alarm
Does it have a backlight for night fishing
Can you program different alarms to beep at different speeds
Does it come with batteries, or do they need to be purchased separately
The10 Best catfish and carp bite alarms
We prepared a list of the best carp fishing bite alarms to help you better choose your carp and catfish fishing. For more information about carp fishing bite alarms, please click on the product name.
How to set up a carp bite alarm
Setting carp bite alarms is easy if you follow these steps. You can see how to set a bite alarm. Maybe this video can help you to set your bite alarm.
Step 1 – Install the rod holder and get your equipment ready for fishing.
Step 2 – Make sure you have bought the correct bite alarm for your rod so it will fit securely onto your line. If not, then buy one that is compatible with your rod.
Step 3 – Insert the rod attachment into your rod holder, making sure the rod is perpendicular to the water.
Step 4 – Insert your bite alarm onto the rod attachment and secure it tightly.
Step 5 – Get a line lock to hold your bait firmly near where it lands on the river bed. This will keep your baits from being carried away by currents or being nibbled by other fish nearby.
Step 6 – Set your line alarm to go off if there is a sudden change in pressure on the rod, so you can be ready for a bite. Position your rod at 45 degrees and place the bait on the river bed to get an active strike.
Step 7 – Wait till you feel the bite and set the line lock, so your bait stays put.
Step 8 – Lift out the rod and pull up your hook, then set it down gently on the river bed again to prepare for another cast.
What is the best type of fishing with bite alarms?
The best type of fishing for bite alarms is one where you are using twitching or static line. This method involves pulling out a few feet of slackline and then pulling it back over and over again, which makes the bait look alive and vulnerable.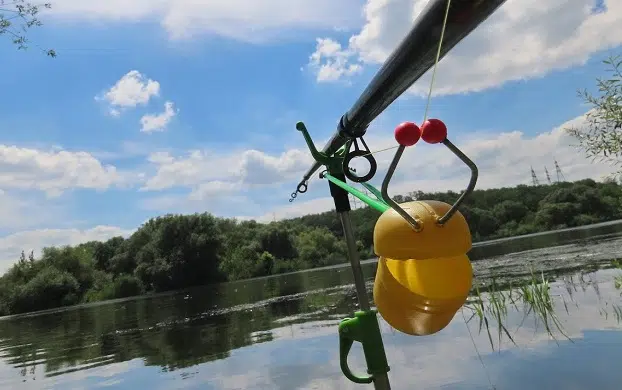 When you do this with your rod, the bobbin will spin and produce the same motion that you might be getting from a live baitfish.
It is also essential to use a light, sensitive tackle that can detect small bites, so it is recommended that you stick with a 6-10 pound test line or less. You will need as thin a line as possible because bite alarms don't work well when attached to thick, heavy lines.
Here are some superb baits for bite alarm:
Pay attention, and you will be amazed at how many different fish can fall for this method, including catfish, carp, or bass. Your bobbin system needs to be kept as light as possible by using a thin line so that the fish can detect it without much effort.
What is the best kind of bite alarm?
You can find various kinds of bite alarms out there, and it can be not very clear to try and sort through all of them. Some sit on top of your fishing rod while others are tied onto the line like an indicator rig, but they all serve pretty much the same purpose.
When buying your first bite alarm, you should look for one that is easy to install and adjust as well as sturdy enough to withstand the force of a big fish nibbling at it. Unfortunately, there are no bite alarms made today that can detect bites from massive fish like tuna or marlin, but if you are fishing for carp.
How to use fishing bite alarms? (Adjusting a bite alarm)
Do you know how discouraged it is when you're trying to adjust your fishing bite alarm and the line snaps? It happens all the time, especially when you're in a hurry or stressed out. It's essential to keep control of your situation instead of losing it over something so basic.
Here are some great tips for adjusting a bite alarm for the first time:
· Hold the rod by its handle to make sure you get a firm grip. Use both hands when adjusting, and avoid holding your fishing rod with just one hand.
· Make sure you turn the knob with your finger or thumb and hold it securely. If you need more leverage, take off the rod from the holder and use a toothpick to adjust the settings. Never loosen or tighten a fishing rod by pulling on its handle. This will weaken your line and might even break it.
· Turn the knob with one hand while holding the rod in your other. Don't keep turning it back and forth because you will end up breaking it off completely.
· Keep the rod steady as you increase or decrease the sound and vibration settings till you find out what works for your biting fish. For carp fishing, we recommend using medium to low settings.
· For deeper water fishing, keep the rod almost perpendicular to the water and reach down for any line adjustment with your thumb. This will avert you from losing your balance and falling off your boat.
. Sometimes bite alarms fail to work or go off at the wrong times because they're misaligned. Misalignment is caused by incorrect or incomplete attachment, faulty wiring, loose battery connection, and other such issues.
. Make sure that your rod and the bite alarm are perpendicular to each other when you attach it. If they are not aligned correctly, the wires might get damaged or disconnected over time. This will also cause a weak connection between the bite alarm and the rod, resulting in some false alarms.
· Try adjusting your bite alarm to see if it will give you a decent connection with your rod. You can gently rotate the rod by 90 degrees or more at regular intervals until you find out what works for you. This method is principally helpful for those who do not have a line lock.
· If you are still having difficulties with your bite alarm, then it may be time to get a new one. You can find one at your local fishing gear store or online vendors like aqua traders. The staff at these shops will be able to help you choose the right equipment for your bite alarm.
· Alarm maintenance is also essential for you and your bite alarm to continue working correctly. If you notice that the knob or wire has been damaged beyond repair, then it's time to repair it or get a new one. You can easily do this yourself by taking apart the faulty equipment and checking all its parts.
· Check the battery and make sure it is in good condition. You can replace an old battery with a new one if necessary. Most fish bite alarms have rechargeable batteries that can be charged at regular intervals to continue working well for you.
· Try making adjustments on your bite alarm starting from the knob. This adjustment will help you identify any problems that might be occurring. Once you know where the problem is, repair it or replace your equipment.
· It's essential to keep your bite alarm in good working order at all times so no one can tell you that they're just a gimmick. If your fishing gear
Do bite alarms need bobbins?
To ensure your bobbin feeds smoothly through the bite alarm, you will need to put on a nut that is made explicitly for this purpose.
If using a buzz bar or rod pod instead of an overhead arm, however, it becomes more difficult because these items do not have the means to tighten themselves with as much force and accuracy.
If you are using a buzz bar, then you will need to find a suitable screw nut that has small holes and spaces between it. You can also use a plastic cable tie or shrink-wrap; however, do not use rubber bands because they will break over time.
With this method, the bite alarm is attached to the rod so that when a fish bites, it will be able to feel the vibrations. This can help you detect when a bite occurs, so you do not miss out on any action.
How to use bite indicator bobbins?
You have just bought a new pair of bite indicator bobbins and don't know how to use them. Before you can start using your new bite indicator bobbins, there are some things that you need to do first. Here are quick tips on How to use bite indicator bobbins.
If you follow these steps carefully, you will be able to use your brand-new bit indicators in no time at all.
1.  Start by using polyester, nylon, or hemp line as a bite indicator and attach it to the fishing rod using the included bobbin clips.
2. Tie on your hook in front of the bobbin clip so that its pointy tip goes through the center hole in the clip and then around the bottom of the rod.
3. Your line should flow out behind the bobbin, come back over to the rod tip, and then around it before making its way to the sinker or bait hook.
4. To shorten your bite indicator line, tie it into a loop on a nearby lure or sinker.
5.   Adjust your bobbin so that it aligns with the fishing rod. You can do this by screwing in or out the top of the bobbin until you achieve the desired results, then tighten it back down again using a pair of pliers.
6.  To adjust the sensitivity of your bite indicator, move it up or down on your rod. If you want a sensitive bite system that will react even to small bites, then place the bobbin higher up on the rod.
7.  When everything is set up and going correctly, cast your line out into the water and waits for a bite.
8.  When you feel a fish nibble at your bait, the bobbin will spin around near the top of your fishing rod. You need to respond quickly once you see this happen, or else you could miss out on some great action!
What are the best budget bite alarms?
The best budget bite alarms for carp fishing are ones that will let you know when there's a fish on the line without breaking the bank. 
We've compiled our top 5 picks for this below so you can stop worrying about getting stuck with the wrong gear and start focusing on catching more fish!
Frequently Asked Questions about carp bite alarms & carp fishing bite guide (
FAQ

)
Conclusion:
The answer is not direct because there are many different opinions, but it all comes down to the individual's preference. Some people say that they never use a bite alarm and still catch fish just fine, while others swear by them. 
If you need to give one a try for yourself, here are some tips on setting up your carp fishing bait alarms correctly and when you should use them to maximize their effectiveness. 
There are two types of indicators- bobbin type, which can be used with any rod or fixed indicator where the clip attaches directly onto the line above the hook knot (usually about 10cm from the point). 
You might also like: