Have you ever tried fishing for trout in a stream? Big trout fishing is fun, but it can be hard to catch fish. You have to go to the right place at the right time and spend a lot of time waiting around. Learn how to fish for trout in a stream like a pro.
Fish for trout with our guide! This comprehensive spring brook trout fishing guide will help you find great spots and give tips on making your next trip successful.
We cover everything from finding the best fly patterns, reading water conditions, selecting gear, rigging up your rod and reel, casting techniques, setting up camp, and cooking meals over an open fire (and much more!). It's all here!
Where do brook trout live? Spring brook trout fishing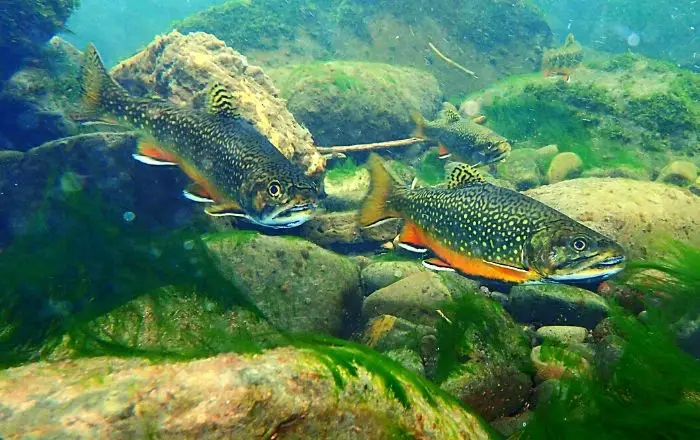 Brook trout is found in most cold, clear streams. If you're flying fishing for brookies, then there are some things to keep in mind:
 • Brookies are found across North America and worldwide, from Northern Europe to South Africa.
While they're widely distributed, many of their populations have declined as a result of habitat loss.
These days' brook trout are found primarily in high mountain brooks, feeder streams, beaver ponds, and lakes.
• Brook trout can live up to 20 years! They spawn from late fall to mid-winter, and the females lay eggs under rocks near shore.
In spring, around April or May, the eggs hatch, and the young trout tend to feed on small insects in the stream.
How to catch brook trout in small streams (Trout fishing Basics)
Brook trout tend to live in smaller streams with plenty of cold water and lots of covers.
These small streams are usually close to their spawning grounds, which makes them easier to find. The fish also hideout under big rocks and between the cracks!
That's why you need a good pair of wading boots that provide ankle support.  You'll also need a lightweight rod and reel since you'll be walking around on the stream bed.
You can fish for brook trout in small streams any time of year-round, but they are most active from March through June.
Fly Fishing during these months to increase your chances of catching some big 'ole brookies!
What is the best bait for brook trout?
Brook trout are primarily insectivores, but they also eat small crustaceans called "mayflies." Mayflies live for about a day, so the fish have to strike fast!
It is very important for you to keep this fact in mind when you go brook trout fishing: how to catch the big trout with your bait!
Brook trout live in clear, cold water. One of the best baits is a small piece of worm or crustacean that imitates mayfly nymphs.
The fact that these lures are soft and squishy makes them irresistible to trout! When you throw your artificial fly into the water, make sure to let it float for a while before you retrieve it back to the surface. This will give the trout time to see how delicious it is!
You can find worms under rocks in your favorite Trout fishing spot, or you can buy them at bait and tackle shops.
The same goes for minnows or small pieces of canned fish. You don't really need to use a special fly fishing lure, though. Use what you find in the streams or buy what's available at your local store!
Trout fishing setup: How to rig up your rod and reel?
Brook trout can live 20 years! This means you have plenty of time to practice how to fish for big trout. You can learn how to properly set up your gear so that it is easy to use and catch more fish. Here's how:
• Find the right fishing pole by walking around your favorite fishing spot. Try on different rods to see how they feel and how easy it is to cast them into the water.
How much should a trout pole cost?
Shop around and find one that's comfortable, lightweight (around 5 lbs.), and has a good drag that can hold fish!
• Properly set up your fly fishing reel. You want to be able to cast your bait as far out as possible with just a flick of the wrist! First, take a look at how your reel is wound up.
Most reels have either two or three handles on top, which you can pull in opposite directions to release the line and then pull again to roll the line back into the reel.
Recommended trout fishing poles
How to cast a fishing pole?
Learn how to use the cast control on your fishing rod and how long to make your backcast! The better you can throw, the farther out you'll be able to put your lure!
• Practice how to cast by hanging a weight from a string tied around a branch on a tree. Move the weight back and forth to get used to how your rod behaves. Make sure you can cast it a long way!
How do you tie a fishing knot?
Use the same knot every time! It doesn't matter how hard you pull on your line, and it won't come undone! You can use a basic clinch knot for your fishing line.
• Hold one end of the line in each hand and make an overhand loop around the other end. Wind and pull it tight to make sure it is secure.
• Pull on your ends so that your loop becomes smaller. Tie another overhand loop around the one you just made and pull it tight. This how-to tie a fishing knot is called a clinch knot! Learn how to tie it now so you can catch larger fish all summer long!
• Practice how to tie this fishing knot every time you go fly fishing, even when there aren't any big trout insight. Make sure your line is always ready to cast!
• Clip your fishing line to a fishing swivel before it reaches the hook. This how-to fish for trout in a small stream will prevent tangles that could break off your lure or, even worse, get some of your fly line stuck inside your reel! Fishing swivels come in different sizes and are used
Should you use a bobber when trout fishing?
If you're fishing for trout, should you use a bobber? Trout is an elusive and difficult fish to catch.
They can be found in a small stream, lakes, streams, larger rivers, and even ponds! But they don't always stay on the surface of the water.
Sometimes they hide under rocks or logs. That's where your bobber comes in handy! A bobber is a weight that floats on the water's surface with a line attached to it.
You tie your bait (a worm) onto this line and lower it into the water until it touches the bottom – then wait patiently for a bite! When you feel something tugging at your line, reel up quickly so as not to lose your catch!
The best way to find out if using a bobber will help you catch more big trout is by trying one out yourself.
The
10

Best flies for brook trout

The best flies for brook trout fishing are imitations of insects that swim or crawl in the water. Insects such as mayflies, caddisflies, and stoneflies fall into this category!

Many people believe that the flies used to catch these fish should have an orange or golden-yellow body, which is contrasted by dark colors on their wings, such as blue, green, or purple.

When you think about that next day on the water, do not forget to pack your fly box! For brook trout anglers of all levels and types, we have a wide selection of flies for any occasion. Check out our recommended best flies for each category below:
Trout fishing lures for small streams
All fishermen know that fishing lures are an important aspect of catching fish, but you may not have known how diverse the options can get.
For Brown trout fishermen, there is a special selection when it comes to choosing what kind of lure they want for their stream and circumstances because anglers need different types depending on where they're trying to catch them.
Check out our recommended best lures for brook trout. They're guaranteed to catch fish!
How to fish for brook trout in a lake?
I have never fished before and want to get started. It can be hard to know where to begin if you've never picked up a fishing rod before, but we're here to help.
We'll start by showing you how to choose the right gear for your first trip out on the water.
Then we'll show you how easy it is to bait and cast your line using our proven techniques that will hook even the wariest fish!
The best way for beginners like you is to learn from others who are already doing it successfully.
This video tutorial is designed with this in mind, allowing us to teach angling basics while also teaching some of our favorite tips and tricks that will make your time on the water more fun than ever before!
How to catch trout in a river?
Fishing is fun, but it can be hard to catch trout in a river. The best way to learn how to fish for trout in a river is by watching an expert do it.
But there are so many fishing videos on YouTube, and they're all terrible! So this video is specifically for people who want to learn how to catch trout in larger rivers.
Our goal was simple – the most helpful and entertaining fishing videos online. We hope you enjoy them as much as we enjoyed making them!
How do you catch trout in creeks?
Fishing in creeks can be a challenge. It's hard to catch trout in small streams because they are so incredibly sensitive to sound and vibration.
Trout have an excellent sense of hearing, so even the smallest noise can spook them out of your fishing hole. The best way to avoid startling trout is with stealthy gear that makes no sound or vibrations as you reel it in.
This means using lures and flies instead of noisy bait, trolling slowly through the water rather than casting directly into holes, and avoiding any jerky movements when reeling up or setting the hook on a bite.
Frequently Asked Questions: Rainbow trout fishing for beginners Guide (FAQ)
Conclusion:
Fishing for Brown trout in a small stream can be an enjoyable experience. However, it takes patience and skill to catch them consistently with the right bait. As you fish, keep these tips in mind so that your next time on the water isn't spent feeling disappointed or frustrated from missing out on catching any of those lovely trout.
 Keep calm! Rainbow Trout are typically most active just after sunrise and before sunset–this is especially true during their spawning season (March-May).
Use a bright lure like a white spoon or shiny fly to draw the attention of hungry rainbow trout lurking below the surface of the water's edge while fishing close to shorelines where they might feel more confident about coming up onto land to feed too. You'll want to target areas where
You might also like: