The first question many beginners ask is, "is fly fishing hard to learn?" The answer is no! It's a straightforward sport that anyone can master.
And mastering the basics of fly fishing means you'll be able to catch more and bigger fish than ever before.
In this post, I'm going to share with you some of my best tips for capturing your first fish on a fly rod – it doesn't get much better than that!
Also, we are going to cover:   How to cast using a fly rod, what fly fishing gear you'll need, how to tie fly fishing knots, and other important things like where the trout will be hiding in the water column. We're also going through some common mistakes people make when they're, so keep reading till the end.
Is fly fishing more effective?
Let's kick this off right away and get one of the most common questions out of the way. So many people ask themselves if fly fishing is more effective than bait fishing.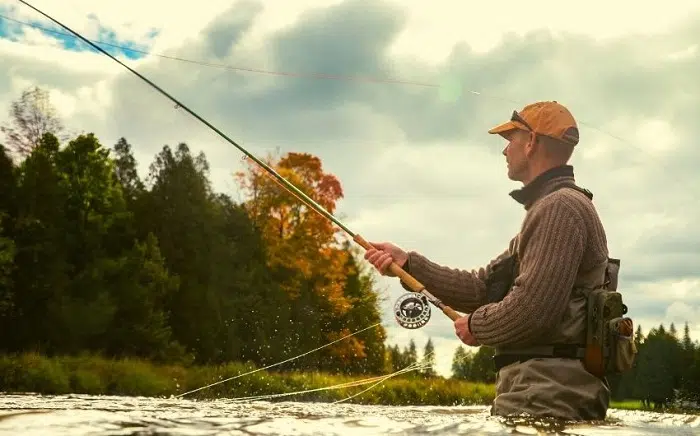 The answer is yes, and no. it depends on what type of fish you're after – which also means that both methods can be equally effective at catching different species.
In fact, many fly fishers will switch from their fly rod to a spinning rod when the fly fish get more finicky.  So unless you're after trout fishing, or other big river fish like salmon or steelhead, consider using a spinning rod if your goal is catch fish for the dinner!
How long does it take to learn to fly fishing?
Learning fly fishing is a skill that you will constantly be refining as time goes on. You never stop learning when it comes to fly fishing since the fish, stream, and weather conditions can always change.
The goals of fly fishing are to cast and catch more and bigger fish with each passing season; these two simple steps encompass everything about fly fishing.
Is Bass Fishing Hard? (Not With This Quick Guide!)
Suppose you've ever gone fly fishing before you know what a special experience it is. I'm not just talking about the scenery, but also the feeling of being connected with nature in such an intimate way.
Because fly fishing leaves us so quiet and immersed in our thoughts – on both a conscious and subconscious level – we're able to tap into our own creativity and get in touch with our true nature.
It's this feeling of fly fishing's profound connection to our soul that makes it so enjoyable for many people, including myself!
How Difficult Is Fly Fishing To Learn?
I believe that fly fishing is an art form that can bring out the artist in anyone. You don't have to be a painter or a musician, but I think fly fishing will allow you to reach your creative potential in some way.
It's hard for me to put my finger on exactly how it does this, but let's just say that fly fishing helps us to tap into our own soul in a way that's both personal and profound. What more could we need?
Of course, fly fishing is also a sport and requires all the normal fly fishing gear you'd expect. So don't think for a moment that fly fishing is easy; it's not! You're going to need good equipment and enough funds to get started.
Is fly fishing harder than regular fishing?
If you've ever tried fly fishing before, then you know that it's a very different experience than using other types of rods.
While regular rod and reel fishing are a little more challenging (for lack of a better word), fly fishing takes the challenge to an entirely new level because not only do you have to be able to cast your line 200 or more feet, you have to be able to do it gently so that your fly doesn't get pulled off the end of your line.
Before I get into the tips for fly fishing, let me tell you a little bit about my experience with fly fishing – because it's going to help you learn fly fishing as well. 
I've been an avid fly angler for many years now, and I'm more than happy to share some of my best tips from the trenches so that you can start catching more fish than ever before!
Of course, it's important to know that I'm not a pro (yet), but the experience doesn't hurt.  I started fly fishing when I was young when my family used to go on vacations to a cabin in Minnesota. 
At the time, we didn't have a fly rod, but I don't think it's any coincidence that flies fishing is such a popular activity in the area (that and Minnesota is just a great state for fly fishing).  I eventually got my own fly rod as a gift from my parents when I was around 14 years old, and the rest is history!
Can you teach yourself to fly fish? (Self-taught fly fishing)
Fly-fishing is a favorite sport for people of all ages across the world. There are many different types of fly fishing, but one thing they have in common is that you need to learn how to cast before you can go out and try it yourself.
You don't need any experience or special equipment as long as your backyard has some space between trees, so there aren't too many obstacles!
If this sounds like something for you, practice fly casting every day with whatever supplies are available until it becomes second nature. A Good Start Is All You Need…
What fly fishing gear you'll need to start & how much will it cost?
The equipment needed to fly fish is a bit more expensive than rod and reel fishing.
You can purchase a good fly rod for around $100, but once you get the hang of it, you may want to upgrade to better your experience – plus, if you think about it, that investment is going to be paying off for the rest of your life!
The reel cost is around $50, and then you can purchase a fly line for about that much as well. You don't need multiple reels or lines if you are going to be fly fishing in standard conditions; however, they can come in handy when fishing a significant water source like a river.
Supplies you'll need to fly fish:
You don't necessarily have to purchase your supplies from a pro shop. You can find nearly everything online, or maybe even at your local fly fishing sporting goods store (if it still exists). Below is a list of the necessities that all fly anglers should have with them:
Fly Line – This is the line that is attached to your rod and reel. It has a weight integrated into it so that you can cast effectively.
Fly Reel – This is where you will store your fly line when not in use; this is how you make sure your fly line does not get snagged.
The Line Clip – You should clip the end of your fly line to this before fly casting so that the weight is not on end and you don't get tangled.
Fly Rod – You will need a special rod for fly fishing, with fighting butts and different sections that help you cast effectively. A good fly rod can cost $100-$200.
Fly Rod Handles – You can purchase handles that will allow you to carry your rod and reel when not in use.
Hook Keeper – The hook keeper is a small, simple tool that allows you to keep your fly line out of the way until it is needed. Wading Staff or Monopod – If you are going into
How to cast using a fly rod?
Learning to fly cast is easy if you practice and have someone show you the basic technique.
You can learn  fly fishing with a trial-and-error method, but it may take longer than other methods.
If you want to learn how to cast your fly rod correctly, there are many helpful resources online to show how it is done.
You can also find fly fishing instructional DVDs that are available at most bookstores and fishing shops.
Where the trout will be hiding in the water column? Trout fishing
The rainbow trout is known as the "queen of freshwater fisheries" and a "fish for all seasons."
They will often hold themselves higher in the water columns than brown trout, which usually orient themselves close to object like rocks or other bottom objects.
The rainbows apparently find security under the choppy surfaces that they feel by hiding under stumps found by Brown Trout.
How to tie knots for fishing?
One of the most important things you need to know when flying fishing is how to tie knots!
Your line and hook must be secure at all times for your fish not to slip away after being caught.
With our video tutorial, you'll be able to do all sorts of different knots for fishing – from the basic knot all the way up to some more advanced ones.
So what are you waiting for? Click play on this video and get started today!     Action: Sign up for our email list so we can send out new tutorials as they come out (we release one every week).
Common fly fishing mistakes to Avoid:
Don't set your fly line too loosely, or else it will get tangled up and you won't be able to cast as effectively.
Don't reel in too quickly after fly casting since this can throw off the angle of your fly line. Instead, take a slow but firm approach when reeling so that you don't scare the fish away.
Don't cast too many times in the same area, or else this may scare away all of the fish that were there before.
Don't let your fly line get tangled up with someone else's! This is a big fishing no-no.
How do you fly fish for the first time? Fly fishing for beginners***
The best way is to go to a fly fishing shop and purchase a book of flies.
This is where you will learn what the correct flies are for certain types of fish, as well as how they should be fished.
You will also want to look at who the author is; if it's someone that you know has good credentials, then it is probably a good buy.
You should also make sure to purchase the book for fishing in your local area. If you have an Internet connection, I recommend visiting some of the fly fishing message boards that are available; they can be a wealth of knowledge when it comes to learning about fly fishing and the fish that live in your area.
Of course, there is more than one method to fly fishing, so you will need to find what works best for you and the fish that you are trying to catch.
Is fly fishing an expensive hobby?
Fly fishing is not a cheap hobby to get into and it can cost you hundreds of dollars just on initial expenditures before even purchasing your first fly rod.
This is because it requires specialized equipment, such as the best fly fishing reel or fly rods for trout to fish with. How much does fly fishing equipment cost?
The costs will vary widely depending on what you decide to get. If you have a good Internet connection then I recommend doing some fly fishing equipment shopping online for the best prices; if you know someone who is already into fly fishing, they may be able to help you out with fly fishing gear as well.
When it comes to being successful at fly fishing, however, the most important cost by far is your knowledge and expertise.
The more you practice, the better you will become; fly fishing for beginners is the key to success in this sport.
How much is a decent fly fishing setup?
Once you have purchased your fly rod and reel, it is time to make your first cast!
The goal here is not necessarily trying to catch a fish but rather learning how to cast correctly. You can do this by going online and searching for some beginner fly fishing tutorial videos.
Where to learn how to fly fishing?
Fly Fishing can be learned from a book, video or fly shop instructor. It is easiest to learn how to fly with an experienced person around.
Your first few times out will have more failures than successes as you remember what different rods feel like and become familiar with the movements needed to make the cast work for you, your line, and fly.
Five tips to help beginners start fly fishing: How to plan your fly fishing first trip?
Buy a good fly fishing rod and reel
Find the best water for beginners to fish in
Learn about different types of flies and what they are used for
Practice fly casting with a weighted object before casting with your fly line
Get some instruction from an experienced fly fisherman or woman before you head out on your own
Conclusion:
Fly fishing is a great way to enjoy nature and get in touch with the outdoors. It can also be an excellent form of exercise, as you will need to hike up hillsides or wade through streams before even getting your line wet!
Don't worry though – we have plenty of fly fishing tips for beginners that are included in this blog post so you'll be on your way soon enough.
We would love to hear from you and help answer any questions about how best to start fly fishing today. Thanks again for reading our blog post; don't forget to share it if
Frequently Asked Questions about is fishing hard & self-taught fly fishing (
FAQ

)

You might also like: