What is the best pfd for kayak fishing? PFDs are not exactly the most comfortable things globally, but they're necessary if you want to stay alive.
If you don't wear a PFD when kayaking, your chances of drowning increase by 90%. So it's not worth it!
The best PFD for kayak fishing is the one that fits you well, is comfortable, and will keep you safe if something goes wrong.
With so many choices of PFDs on the market these days, it's hard to know which one will work best for your needs.
So we'll take an in-depth look at each type of paddle fishing vest available today and help narrow down your options based on price, comfort, durability, and more!
Here are the Top

5

Kayak Fishing Life Vest and PFD:
Are PFDs required for kayaking?
Before you jump in the water, make sure to have a Personal Flotation Device (PFD), or what's commonly called a life jacket. A PFD works only when it is on your person and can help save lives!
The law requires that everybody has one for every boat they are riding, so don't forget kayaks, canoes, SUPs either!
You may have noticed that PFDs are a little bulky. When you're trying to paddle your kayak, a bulky vest can be annoying!
Don't worry, though; there are plenty of choices available for fishing vests that provide the best level of flotation while being lightweight and compact enough to store easily in your kayak or hold on to while you are in the boat.
If you're using a float tube, your best bet is to use a vest with handles on the sides. This will allow you to hold onto it more effortlessly and prevent being tipped out of your kayak if there's significant water around!
What are the 5 different types of PFDs?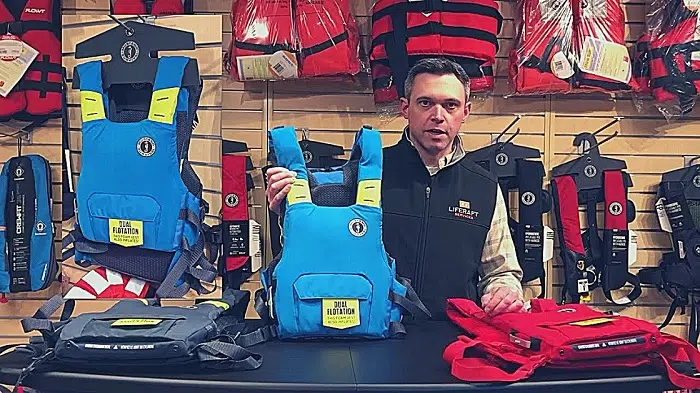 When it comes to recreational water activities, a personal flotation device can help keep you afloat. U.S Coast Guard certifies and regulates these devices in 5 categories classified as either inflatable or inherently buoyant. The latter is more common for whitewater paddlesports due to their durability and stability while on the surface of moving bodies of water like rivers and Lakes.
TYPE I PFDs
Type I life jackets are the most buoyant and suitable for any water condition, including rough or isolated waters where rescue may be delayed. Although bulky compared to Type II and III PFDs, it will turn an unconscious individual face-up while also providing stability if they were knocked out of a boat by waves. In addition, it comes in sizes from adult to child, providing optimal protection no matter what age you happen to be!
TYPE II PFDs
A Type II Personal Flotation Device is designed to keep an unconscious person's face out of the water while providing more than 15.5 pounds of buoyancy and helping them turn from a downward face position into either a vertical or slightly backward position.
TYPE III PFDs
Type III PFDs are perfect for people who enjoy prolonged paddling and have a chance of being rescued quickly. They offer comfort so the wearer can wear it continuously without discomfort, but they will need to tilt their head back to avoid facing down into the water if placed upside-down on rescue.
TYPE IV PFDs  
A Type IV PFD is an approved device designed to be thrown at someone in the water. It has 16.5 pounds of buoyancy and consists of a cushion or ring with buoys on either side, set near each other for stability purposes, so it doesn't float away from its intended target when being tossed into the air towards them by way of boat crew members who are standing nearby waiting patiently until they're called upon to do their job!
TYPE V PFDs
Type V devices are intended for specific activities, such as windsurfing and kayaking. They can only use them in the specified conditions! Deck suits, work vests, board-sailing vests– these types of items fall under Type V devices. This is not what you want if you're looking to catch some waves or do a little fishing on deck with friends.
What type of PFD is used for kayaking?
The best way to ensure your PFD fits snugly and comfortably is by trying it on at a department store. You want the fit of a good life jacket so that when you wear it, there are no gaps between body parts and nothing pressing against sensitive areas like ribs or armpits.
When shopping for something new, look for affordable options like having an adjustable waistband with velcro straps, as they offer better support than tie-on belts!
Our

10

Top picks of fishing life Vests.
Which type of PFD will turn most?
Type I PFDs are designed for rough or remote waters where rescue could take some time. They're bulky but have the most buoyancy and will turn you into an upright position should you pass out in them.
I would likely find These types of devices on commercial vessels as well. Those who kayak in protected areas, on the other hand, likely won't need any personal flotation device to turn them upright if they passed out.
What's the best PFD for kayak fishing?
You can't go wrong with a lifejacket. It's an essential piece of safety gear that will keep you afloat and safe in any situation. Plus, it has plenty of other benefits like being lightweight, comfortable, and easy to wear.
If you're looking for a new life jacket or want to learn more about them, check out our website! We've got all the information about different types of jackets and how they work so that you can make an informed decision when buying one. Check below our top picks and best seller.
Sale
Bestseller No. 1
O'Neill Men's Superlite USCG Life Vest,Pacific/Smoke/Black:White,L
USCG Approved Personal Flotation Device (Type III); Perfect For...
Designed to fit snug for your safety. Minimal bulk design allows...
Anatomically cut lightweight polyethylene foam flotation with...
Heavy-duty 1.5 inch wide webbing belts with quick release buckles...
Sale
Bestseller No. 2
O'Neill Men's Reactor USCG Life Vest, Black/Black/Black,X-Large
USCG Approved Personal Flotation Device; Perfect for Wake Sports,...
Segmented Foam Core And Anatomical Flex Points Allow Unrestricted...
Quick Release Safety Buckles And Heavy Duty Front Zipper Create...
Minimal Bulk Design Allows Full Mobility, While Expansion Panels...
Sale
Bestseller No. 3
Sale
Bestseller No. 4
Sale
Bestseller No. 5
What is the best life vest for kayaking?
We all know that life jackets are essential for kayaking, but which one is the best?
There are a lot of different types of life vests on the market today. For example, some people prefer wearing a vest with armholes, and others like to wear a jacket-style PFD.
The type you choose will depend on your personal preference and what kind of kayak fishing you do most often. If you're looking for an easy answer, we recommend trying out both styles before making your decision!
It's worth it to find something that fits comfortably and meets your needs so you can spend more time enjoying the water and less time worrying about safety. Check our selection of high-quality PFDs for kayak fishing!
Conclusion:
The decision of which PFD to purchase can be difficult. We hope that this article has helped you make a more informed choice about the type of life vest you should buy for your next kayaking adventure. If so, please share it with friends and family who require some guidance on what kind of pfd they should get! 
Remember: if there is ever an emergency while out on the water, don't forget to wear your PFD at all times. You never know when something unexpected will happen, and help could arrive too late for someone without one. Thanks again for reading our blog post today; we'll see you soon with another helpful tutorial or guide from UpIceFishing!
We hope this article has been helpful, and we've helped you find the best PFD for kayak fishing. If you have any questions or comments, please make a comment below! Also, please share how our blog post was helpful to your friends who enjoy kayaking too! Thanks so much for reading, and happy paddling!
Frequently Asked Questions about kayak fishing PFD & kayak life jackets (
FAQ

)

You might also like: