Shark fishing can be a lot of fun, but it's essential to have the right gear if you want to succeed. If you're just getting started in shark fishing, it can be hard to know where to begin when choosing the right shark fishing pole.
There are so many options available, and it can be tough to know which one is right for you. We've gathered together this list of the five best shark rods for beginners so that you can hit the water with confidence.
We've also included information on what to look for when choosing a shark fishing rod so that you can make an informed decision.
Suppose you are in A hurry! So check below the top-rated Shark fishing rod for sale.
Can you catch a shark with fishing rod?
The answer is yes, you can catch a shark with your fishing rod – but it's not as easy as reeling in a few smaller sharks.
Shark fishing isn't for the novice angler, but it can be an enriching experience when you get it right. Before you go shark fishing and buy the cheapest shark rod you can find, do your research.
Once you've determined a particular type of shark fishing rod, ensure you know how to use it properly.
How much does a shark fishing rod cost?
The cost of a shark fishing rod will depend on the features it includes and how high-quality it's built. You can expect to spend around $30 for a good shark rod, but you can pay up to $100 or more for high-end models.
What to consider when choosing a shark rod?
It would be best to consider a few points when choosing a good-quality shark fishing rod. These include:
The length of the rod: 
Shark rods come in a variety of lengths. Taller fishers generally prefer longer rods, while shorter anglers can use shorter rods with no issues.
The material of the rod: 
Shark fishing rods are made from different materials, including fiberglass, graphite, and steel. Fiberglass rod blank is the cheapest option, which is why it's so popular with beginners.
The type of line: 
Shark rods can be used with several lines, from monofilament to braided fishing line. Depending on what type is most comfortable for you, you can choose either one.
The reel:
Most shark fishing rods are sold with a matching reel, but you can always use your own. There's nothing wrong with doing this, although it may mean sacrificing some power.
TOP 5 Best shark rods for Beginner
Shark fishing spinning rod by Zebco
The Zebco Rhino Tough spinning rod is perfect for anglers looking for an extreme-tough, heavy-duty fishing rod.
This 5-foot 6-inch 2-piece Shark Fishing Pole is constructed with layers of cross-weave graphite and comes un-sanded for a more challenging, more stable design.
The Rhino shark fishing spinning rod is engineered with five heavy-duty roller guides and a stainless steel D-frame tip guide, making it perfect for all-day use. With a line weight of 4-10 pounds and sensitive tip action, the Rhino Tough spinning rod can be used for various applications.
Trusted by anglers since 1949, Zebco invites you to explore the outdoors with its latest addition to the fishing tackle lineup. 
Ugly Stik Shark fishing rod and reel combo 
Ugly Stik GX2 Medium Spinning Combo: This combo is perfect for anglers who demand the best in both value and performance.
The Ugly Stik GX2 spinning rod features three ball bearings plus a one-way clutch instant anti-reverse bearing for a smoother gear ratio and instant hook sets.
Machined anodized aluminum spool with oversized bail wire ensures improved durability, while compression bail springs help to increase the reel life span. Six feet of the rod, two-piece rod construction, weight/power ratio is 5:5:1, four bearings, monofilament line cap is 6lb.
Best shark fishing rod and reel combo by RICHCAT
You are looking for a great fishing rod and reel combo that will help you catch catfish, bass, and other freshwater fish? Look no further than the RICHCAT Fishing Rod and Reel Combo!
This kit includes two medium-heavy telescopic poles and reels that are perfect for adults. The rods are also pre-spooled with a 22lb line to 50 lb, making them ready to use right out of the box.
Best surf rod for shark fishing by Fiblink
Are you looking for a great surf rod? Look no further than the Fiblink Shark Fishing Rod Surf! This quality carbon fiber rod is perfect for serious anglers and offers impressive strength, sensitivity, and durability.
Whether you're looking to land a big one or enjoy a day on the beach, this rod has you covered. So grab your Fiblink Shark Fishing Rod Surf and get ready to reel in some fun!
PLUSINNO Surf Shark Fishing Pole
Looking for a high-quality fishing rod that will stand up to the harshest conditions? Look no further than the PLUSINNO Surf shark fishing rod.
PLUSINNO Surf shark fishing rod made of carbon fiber and fiberglass is incredibly durable and elastic, making it perfect for catching big fish.
The hooded reel seat is manufactured of stainless steel and is resistant to corrosion, while the EVA foregrip provides a comfortable grip. The deep aluminum oxide spool ensures smooth reeling, and the power drive gears offer plenty of strength.
What size rod do you need for shark fishing?
We all know that fishing for sharks can be an exciting and challenging experience. For best results, you'll need a rod with enough power to reel in these big guys!
We recommend at least 6 feet long of line on any standup boat or vessel – this will help ensure your catch stays near the surface. So it's simple than ever before possible to get photos taken while out there catching some beautiful ocean creatures (like yourself)!
For those times when water isn't warm enough, but wind conditions have made casting impossible, try using 5'6″ fibreglass rods instead.
They're firm yet sensitive, which means no matter where you are, you'll still be able to enjoy the thrill of landing a giant even with harsh conditions and a lack of smooth waters.
What's the best bait for shark fishing?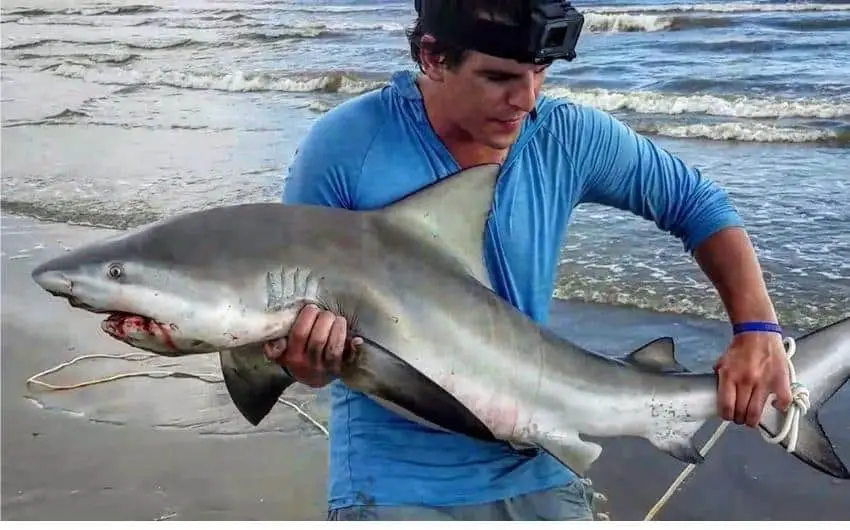 The best bait for shark fishing is whatever you can successfully cast. This includes dead fish, bunker chunks, sand eels, and crabs.
The most common bait is Bonita because they have a high oil and blood content, but if you're after ladyfish or mullet, it's best to use whole chunks instead of cut pieces so as not to bother them too much!
If you're using live bait, make sure it's fresh. You can put the bait on a wire leader or use a circle hook to keep it away from sharks' teeth. You can use a wire leader to keep the bait away from other fish that may try to steal your hook.
What tide is best for sharks?  
High tide is a great time to go fishing because it gives you the best chance of getting your bait within striking distance of hungry sharks.
You can use this opportunity by looking at what tidal information we have available and plan on fishing two hours before or after high water with an intention that will allow for four full dawn/dusk sessions throughout any given day if needed!
How do you make a shark rig for surf fishing? (Shark fishing rod setup)
Learning how to fish for sharks can be difficult, but it doesn't have to be. We've been surfing and fishing together since we were kids, so we know what works in the water.
This video discusses how to make a shark rig for surfcasting. This rig is meant to be fished with a 10-12ft surf Shark Fishing Pole and primarily targets sharks in the 6ft range, such as blacktips and juvenile bulls.
This video is an easy guide to making the best possible rig when targeting sharks on surfcasting trips. If you have any questions on the tackle used in the video or the rig itself, feel free to reach out below! Good luck out there! 
How do you land on shark fishing?
It's essential to remember that sharks are wild animals and should never be used as pets.
This means you shouldn't EVER try to bring one of these creatures onto your boat, capture it and hold it for a photo opportunity. Always immediately release your catch!
To land the shark, you should have a partner on the boat to help with the fight. Use a high-quality fishing net, start by getting them at their gills, and then work your way towards their tail.
When you're trying to hold down a thrashing shark, the last thing you need is your net breaking and the shark getting away.
How to attach a sinker to a shark rig?
The most excellent way to attach a weight to your shark rig is with a Palomar knot. This knot gives you the perfect balance between strength and breaking strength and gives you a lot of flexibility.
This is especially important if your line breaks or you're fighting something big like a shark because it will give you some "give," which is the key to landing a big shark.
The perfect knot for attaching your sinker or lead on a shark rig is the Palomar knot. It's super strong and gives you a lot of flexibility in case your line breaks or if you're fighting a giant shark and need some "give."
What size hook should I use for fishing sharks?  
The best kind of hook to use for shark fishing is a 4/0 or 5/0 offset circle hook. The point on this kind of hook goes to the side, so it's less likely to get hooked up in their throat, which can cause severe problems for the shark.
The offset nature of the hook also causes the point to sit on the bottom of their jaw, which gives it more holding power. For fishing for sharks in the 3-5 foot range, use a 5/0 circle hook.
If you think your chances are good at catching bigger fish than these sizes or if there's an area where people often report seeing larger specimens of this species swim through.
Then consider going up on hooks size by one point until it becomes clear which kind will work best based on other factors such as conditions, etc.
How do you catch big sharks in the surf?
Sharks are some of the extremely feared and misunderstood creatures on the planet. People often think that they are all giant, man-eating monsters. 
This couldn't be further from the truth. In reality, sharks are an essential part of our ecosystem and play a crucial role in keeping our oceans healthy.
Sharks aren't the bloodthirsty killers that Hollywood has made them out to be. They are gentle animals that rarely attack humans.
If you're absorbed in learning more about sharks or want to see them up close and personal, then check out BlacktipH's video on how to catch big sharks in the surf.    
Commonly Asked Questions about Shark fishing rods and reels (

FAQ

)
Conclusion
When choosing a shark fishing pole, the significant thing to consider is that you need something durable, has enough power for the size of fish you're hoping to catch, and is easy to use. If this is what you're looking for, check out our list above. We have pined down some of the best options, so there are only five on it! You can go shark fishing with any one of these shark fishing pole lists. Happy fishing!
You will also love: