Wondering how to string a fishing rod? Maybe you are not sure if you need to string a fishing line to the reel or the rod first. Well, whatever it is that you need to know about, this guide will help you out.
We have dedicated it to helping you learn everything about stringing fishing lines ranging from rods to spinning reels, hooks, and even lures.
So take the time you need to go through it, learn everything, and be on your way to catching some fish.
How do you string a fishing pole (Setting up the New fishing pole)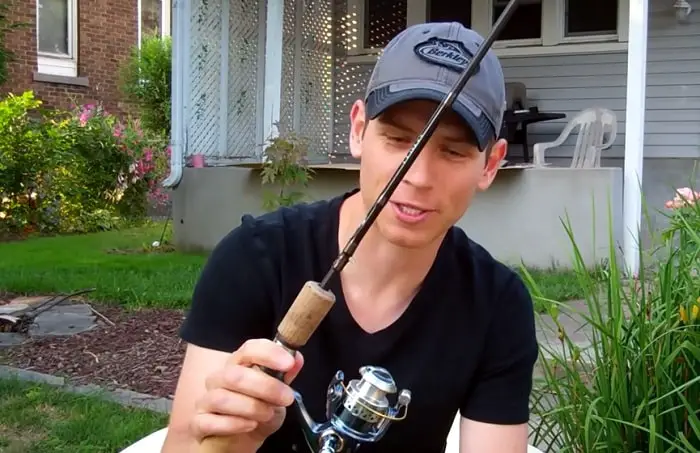 Assemble Your Pole and Reel
Before we discuss how to string a fishing pole, we need to first assemble our fishing rod and reel.
So follow these simple steps to do just that:
String the Fishing Pole
Stringing a fishing pole is a piece of cake. It is very simple and you just need the help of the fishing guides, aka eyelets.
All you need to do is to take the end of the line and pass it through the fishing guides or known as the eyelets. Once done, open the bail of the reel and give the line a few wraps around the reel and tie a few knots to secure.
Attach The Line To Your Reel – Load the line onto the reel
How to line a fishing pole? Now that we are done with stringing a fishing line to the rod, we will have to string a fishing reel and then we will discuss how to attach hook and bait.
So here are the steps for attaching the line to your reel:
Attach the Hook and Bait or Lure
To string a fishing reel, you don't have to take any complicated steps. However, when you are attaching the hook to the line, you need to follow closely what we have mentioned below:
Now we will discuss how to bait a fishing line with a lure; follow these steps: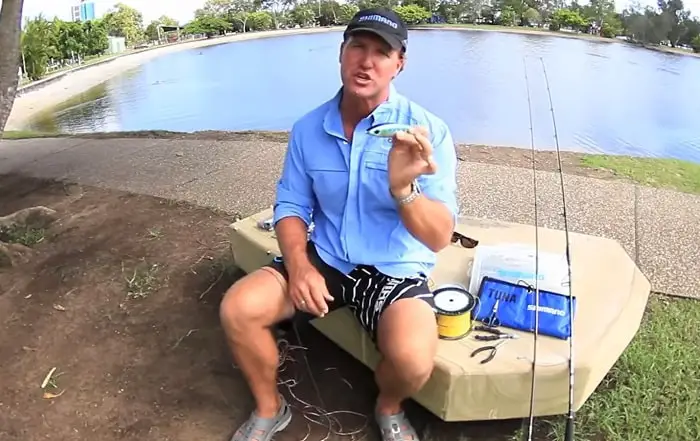 Casting Your Bait or Lure
Casting the bait using a spinning reel and rod is something that needs to be learned by studying the moves of a professional angler.
Luckily, we have a video that will help you learn everything from the right way of holding the rod to casting motion and more.
This is the video that has it all, make sure to watch till the end and if you want to ask questions, get in touch with us.
Reeling in A Fish
Now that you are don't with learning how to string a fishing rod or how to thread a fishing rod, we will talk about reeling in a fish once it has caught the bait.
The process is very simple but you need to be fully relaxed for it. Here are the main steps to reel in the fish:
How to string a closed-face fishing pole?
How to restring a fishing pole? You already know how to string fishing pole but in this section, we will talk about stringing the closed-face fishing pole.
And remember, here, by closed face pole, we mean closed face reel. People often use these two interchangeably but the only thing that is closed face is the reel.
How do you string a bobber on a fishing pole?
It's simple. Just thread the fishing line around the bottom and top hooks of the bobber. But the bottom hook will not be visible so to expose it, use the button on the bobber.
Once it comes out, take the thread through it and then expose the top hook using the bottom button. That's pretty much it.
How do you put a reel on a rod?
It's simple and we have discussed it above already. First connect the rod and once the rod's sections are connected and secured, it's time to attach the reel.
There will be a female opening right above the handle called the reel seat. Insert the reel into it. There will be a rotator above the rod's handle, near the reel seat. Rotate it over the reel seat to fix the reel in place
How to use a fishing rod?
Using the fishing rod as a beginner can be a bit daunting but fear not, it's all very simple and easy to understand. We have a YouTube video that can help you.
You can go through this video to understand the basics of the fishing rod and figure out how to do things on your own.
How to Line a Fishing Pole for Dummies?
Fishing can be a fun and rewarding hobby, but getting started is not always easy. 
Fishing can seem complicated and intimidating at first. There are many things to learn – what kind of pole should you use, what type of bait, and where should you go fishing?
This video will show you how to line a fishing pole for dummies in 5 easy steps. Once you know how to do this simple task, you'll be on your way to becoming a pro fisherman!
Conclusion:
So, how to reline a fishing pole? Now you know how to string a fishing line and thread a fishing rod. You are ready to go on a fishing trip and catch some fish. Even if you just wet the line for the first few times, it's okay; you will eventually learn enough fishing tips and all about the best fishing rods to start catching fish for dinner.
Top-recommended fishhing Gear
You might also like: