When it rains, a carp fishing trip is a no-go. Right? Not necessarily! Carp become more active and easier to go for carp fishing after heavy rain. Here's why:
After The rain, carp will move into shallow waters to feed on terrestrial insects that have been washed out of the mud by the downpour.
This makes them much easier to target than in summer when they feed deeper in open water or far away from cover.
The water temperature is lower, so carp are much less mobile and easier to approach than they would be in the summer.
After rain the water clarity is much improved because the mud has been washed away or deposited in shallower areas, so you can target carp by sight, rather than at a distance.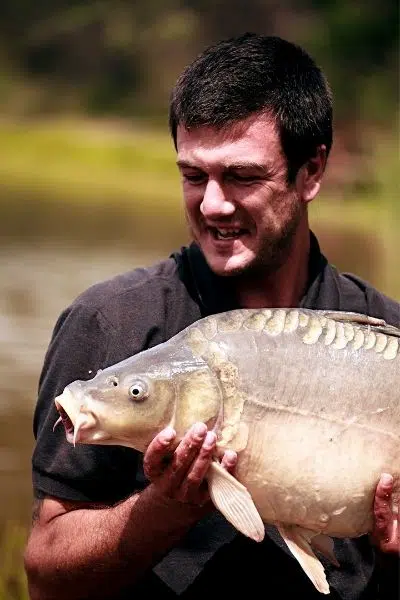 So it's definitely worth taking the tackle box out after a torrential downpour! What should you fish for?
Why is it good to go fishing after it rains?
Fishing in the rain is a very productive method for catching big fish, significantly when the water temperature drops.
One reason carp become more active after rain carp moves into shallow water to feed on terrestrial insects. 
These have been washed out of the mud by the downpour.
They made carp fish easier to target than in summer when they feed deeper in open water or far away from cover.
The carp will also be less wary as their predators, such as pike and perch, will be inactive due to low water temperatures and high dissolved oxygen levels, making conditions ideal for catching big fish with bait or lures.
Does heavy rain affect carp fishing? (Fishing in the rain, good or bad)
When it rains, carp fishing becomes much more accessible. Carp like to stay in deeper waters, and heavy rainfall will force them into backwaters or shallow areas where they can be caught using corn bait or nightcrawlers, respectively.
This makes them very easy and exciting to target with carp fishing! It is suitable for targeting big fish in the winter, especially since rain doesn't affect fishing when the water temperatures drop.
Can you catch carp after rain?
Carp are excellent swimmers, and they usually make their way back to deeper waters after rainfall.
If you go fishing, you will usually find them out in deep waters where you can use a bottom fishing method such as the pole and ledger rig.
However, if carp are not in deep waters after rainfall, you may need to switch your approach to use a method such as a feeder or a ledger rig and focus your efforts on shallow waters where they shelter.
Where should I go fishing after heavy rain? (A guide to winter carp fishing)
Carp can be caught in nearly every water, so there's no advantage to choosing a specific location.
However, carp tend to shelter in backwaters or shallow areas, so if you are fishing in the rain, try to look for these areas and search around in and outside of weed beds and areas near overhanging trees.
This makes them very easy and exciting to target with carp fishing! It is a good method for targeting big fish in the winter, especially when the water temperature drops.
Is carp fishing better after a thunderstorm?
A storm is a great time to get out and try carp fishing. Some believe that the fish will be deterred from feeding after storms, which means your catch might not turn up as much.
But actually, this can work in favor of those who are brave enough!
With rain pouring down all over, you'll have one challenging task ahead – finding them amidst their hiding places deep underwater.
However, if we're talking about what type of equipment, then make sure it's waterproof because otherwise, everything else would come tumbling down too while trying desperately hard, just like our mood did when these rainy days rolled around again soon enough.
Do carp bite on cloudy days?
Carp anglers advise that carp fishing is best on clear days as the fish will be more active, and you'll have a better chance.
On cloudy days, carp tend to be more lethargic, and they won't move much in the water, making it harder to catch them.
It is much easier to catch carp during the night than in daylight hours. However, if you can't do night fishing, try using rods with very bright and flashy lures.
This will make them much easier to see in the water, and this increased visibility can work to your advantage.
What is the perfect weather for carp fishing? (Best weather conditions for carp fishing)
The best time to go carp fishing is when the weather's nice, and it should be summer.
Cloud cover helps you get that magical feeling of being outdoors while still maintaining your sanity since there are no bugs or heavy winds outside!
The ideal temperature for fishing carp ranges anywhere from 21-23 degrees Celcius with a light southerly breeze to keep things interesting – so don't forget those sunscreen lotions, sunglasses, and a hat.
How to carp fishing after heavy rain?
Carp fishing is very much similar to general fishing in that you'll also be looking for the same things, so there's no real need to bring equipment with you.
However, to catch carp after heavy rain, there are a few things that you will need that can also help when fishing in general. These are some bait, lures, and hooks which have been proven to work after rainfall!
Bait for carp fishing after heavy rain (Carp fishing gear)
Bait for carp fishing does not have to be complicated at all – in fact; its simplicity is what makes it so effective!
There is plenty of options to pick from whether you want something sweet, savory, or even smelly – there is nothing to stop you!
Take corn, for example. This is one of the most popular options which most carp anglers have used for years because it can get them very excited, and the smell is very easy to spot, so don't worry if it comes off while retrieving your line!
Cheese can be just as good because it is a pungent smell, and the fish cannot resist a little cheesy treat.
You can even try using chicken mince which is a universal go-to for many other types of fishing. To make everything even better, you can try adding your favorite flavor to the mix, like Jamaican jerk or even teriyaki!
Carp fishing lures for after rain.
Choosing the proper carp fishing lures or bait can make all of the difference in catching fish!
One popular lure that has been tested and proven time and again is Lifelike Carp Fishing Lure. The reason why it's so effective is because of its realistic appearance, which makes the fish go wild!
Can you float fishing in the rain?
This is one of the favorite ways to fish for carp after heavy rain because it allows you to detect subtle bites which are hard to find during the day.
This is also a great way to find out where the fish are hiding as well as how deep they are.
The quickest direction to do this is with a specialized carp fishing float that looks fantastic and has some great features.
One of the best is the adjustable setting which allows you to change the buoyancy depending on what you want.
Using this method when carp fishing after rain means you'll be able to spot the other fish before they see your bait and maintain a certain stealth level!
Carp fishing during the night
Fishing carp at night is one of the most exciting ways to catch fish because it can be done in the pitch-black darkness, which means you can have your own private spot!
For catching these nocturnal fish, it is advised that you use bright lures to mimic the moonlight, as this is what they will be attracted to.
Best way to fish in the rain?
The best way for fishing in the rain is with a good umbrella and some oversized ponchos! This not only granting you to keep yourself dry but can also be used as a cover for your tackle box and bait too.
The main reason why this is so effective is that you're already in a natural element and doing everything that you can to keep yourself dry and comfortable.
The main thing is not to give up and head for home because you could end up missing out on the big one! It's best to fish through everything – standing water, showers, and even hail if you have to!
If you find this helpful, then give us a follow and check out our other articles:
Questions & Answers about winter carp fishing (
FAQ

)
Is carp fishing good in the rain?
Rainy weather often creates conditions for lake fish to be active and exciting! Carp tends to act more boldly when they're dark than during bright sunlight, so there's always something going bump in these types of lightings–especially if you've got an angler who has found their perfect timing with this natural phenomenon as well (not too much though).
Do carp bite humans?
Carp are generally not very aggressive but do have the potential to injure people. It is definitely not advisable to declare yourself as bait, mainly if you've never fished for them before.
What month is best for carp fishing?
March is the perfect month of the year to go carp fishing due to the ground thawing but the water still being quite cold; you're pretty much guaranteed results!
When was carp fishing invented?
Carp fishing has been around as early as the mid-19th century. In America, John Miller is considered to be the originator of carp fishing, while in Europe, it was George IV.
What bait do you use for carp?
Carp love sweetcorn, casters, and bread, as well as other cereals. They're also attracted to worms and shrimp at times, so make sure you experiment with different baits to see which one works best.
What time of the day is best for carp fishing?
Catching carp is best done during the day when it's not too bright though they can often be caught at night if you use bright lures.
How many kinds of carp are there?
There are many different kinds of carp that you can catch, but the three most common ones are Common Carp (or clear), Mirror Carp(silver), and LeatherCarp. Other species include GrassyCarps- crucian carps Ghost Kei KoisF1 koi fish. There's always room for more diversity in your fishing adventure!
When does carp feeding?
Caring for carp can be a juggling act. They will bite at any time of the day but prefer to do so in the evening or early morning during early spring and summer months when food is more scarce–leaving them hungry before dawn? You'll need lots-o'-fish sticks!
Is it good to fish after heavy rain?
Carp are very much attracted to rain, especially if it creates more food spread of the lake. Fishing after heavy rain can help you expand your fishing map, especially if you've got a gut feeling that carp are present.
What time are carp most active? Carp fish activity
Carp are most active in the early hours of the morning when it's not too bright. They're attracted to moonlight, so aim for about two hours after the moon has risen.
Do carp feed in the rain?
Carp feed in the rain, and you'll find they will bite more aggressively when it's raining than when it's sunny. Catching carp is also best on overcast days.
Do carp like bread?
Carp prefer sweetcorn, but they do have a taste for bread. However, they're not too keen on dough balls, so mix it up with some prawns to keep the carp happy.
What kind of line is best for carp fishing?
Carp prefer thick lines because they can better feel the catch. Braided line is also a good choice as it allows a better "feel" of the fish and can help you determine whether or not it's a carp because you'll have to pull them up to see.
Carp are the only species that bite more aggressively after rain, but other fish species tend to bite when there's lots of food because they're not too picky! Also, other fish like bass fish are good fish for fishing in the rain. You can catch bass after the rain because they also have the same feeding pattern.
Are carp good to eat?
Carp are a little too boney for their taste, and it's more advisable to keep them as a trophy instead of trying to eat them.
How do you fish for carp in the dark?
Carp have better sight in the darkness, so it is best to use bright lures to attract them. Some fishermen also use "fox lights" to attract the fish.
How long can carp live out of water?
Carp can survive outside of the water for a couple of hours, but it's best to catch and release carp fish as soon as possible.
How often should you check your lures?
If carp are feeding actively, checking your lures every minute is appropriate, but if they're not that active, you can check them less frequently.
How big are carp?
Carp can get quite large, so size really depends on gender. A large number of carp are female because they're the only ones that can produce eggs!
What is better for fishing, high or low pressure?
Carp are not very picky when it comes to the weather, so that you can fish in both high and low air pressure conditions – but less fishing pressure is preferable. If you're looking for the perfect way to spend your time in between storms, then rising air pressure will be when it's at its most active. If not? Try falling before a storm!
How many different types of hooks are there for carp fishing?
There are three main types of hook you can use for catching carp: circle, offset, and J-hook. The main difference is the distance between the hook points.
What fish species can be easily caught in the rain? fish behavior
While many fish will bite more aggressively after rain, carp are the only species that bite in the cold rain. Toadfish and catfish are the only two fish species you can easily catch in the rain.
Who are the best carp anglers?
Well, it's no surprise that Slovenia has produced an incredible nine different nations where he has banked 70lbs-plus of fish. That's right– Kristof Cuderman broke a record last year and now holds two titles: World Record Holder for Big Carp Angling (2016), as well as European Champion! We look inside this man dubbed "The Mental Master" by fishermen around him.
There are so many good carp fishermen out there, but the best is the one who shares their knowledge, experience, and wisdom!
Conclusion:
The perfect weather for catching carp is typically after a thunderstorm when the water levels are low. If you want to go fishing for carp, but it's raining heavily outside, don't worry! Your chances of catching some big fish would be higher if there had been heavy rain in the previous few days because they might still be on the lake's water surface.
We hope this article helped answer your questions about whether or not you can go carp fishing during rainy weather and what conditions result in more fish bites while out on the water. Let us know how these simple tips work for you by commenting below with any feedback or stories that illustrate how well these principles have worked for you so far.
You might also like: