Getting the best surf fishing rods can be a bit challenging if you don't know where to start. However, this guide is created just to help you find the perfect one for you.
Quick Comparison
Do longer Beach fishing rods cast further?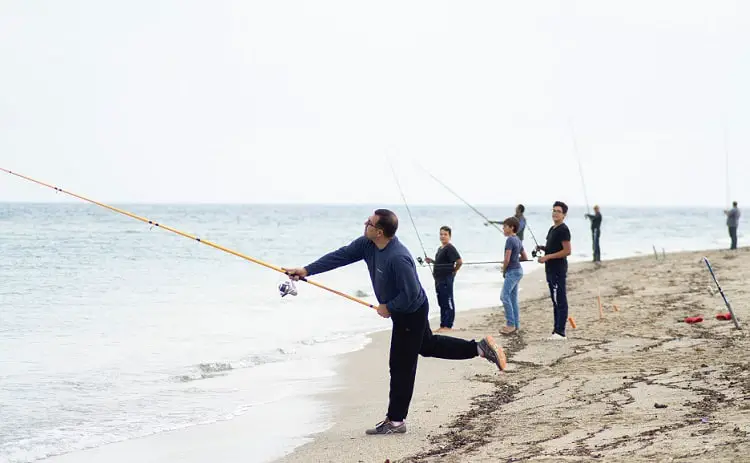 Yes, it does mean a longer cast. A 7 ft surf rod will cast further than a 6 feet long handled rod. Even if you keep the power and the action rod of both 6 feet long and 7 ft surf rods the same, then still, The longer surf rod will cast faster and further than the shorter one.
Remember: the size and length of the surf fishing rod will affect your success in angling so the best surf fishing rod and reel for you will be the ones you find easier to use and manage.
Major Consecrations to pick the Best Surfcasting Rod for long Distance:
Length: The rod length varies from 7 to 14 ft. You should get the one depending on your own height; the longer, the better.
Power: Most anglers will find the best rod power to be between medium-heavy and heavy rod, so start with that.
Action: Slow action bends the rod's center, while fast action bends the rod's tip. Fast action is perfect for lures.
Reel Seat: Get high quality, corrosion-resistant, graphite-based reel seat.
Portability: If you are concerned about portability, get a lightweight and preferably telescopic rod or the one that can break into at least 2-4 sections.
What is the best surf fishing rod?
These Are Our Top 7 Recommendations for a Long-Distance Surfcasting Rod for 2022:
1. Okuma Longitude Surf Graphite  surf Rods:
You cannot ignore this efficient graphite-based surf rod when it comes to Beach Fishing. Be it your own comfort or the durability against stubborn fish, Okuma has one of the best shore fishing rods that you can use in
You cannot ignore this efficient graphite-based surf rod when it comes to Beach Fishing. Be it your own comfort or the durability against stubborn fish, Okuma has one of the best surf casting rods that you can use in all fishing conditions.
.
Excellent sensitivity against the lightest bites
Braid-compatible premium aluminum oxide guides
2-piece rod with a non-slip cork-based handle
2. St Croix triumph surf spinning rod 
The premium construction of st Croix mojo surf one makes it the best surf spinning rod for anything passionate about angling. Some features are:
SCII-based graphite make
Frosted solver hoods with reel seat
5-year warranty
3. Fiblink Surf Spinning Fishing Rod 
This carbon fiber-based rod has excellent sturdiness and sensitivity to bites. With its non-slip cork-based handles, it offers greater grip and comfort when reeling against fish.
Precisely tuned for boat fishing
Stainless steel and ceramic mix guides
Stainless steel-based hood transitions above the reel seat
4. Shimano tiralejo surf spinning rod:
Want the best of the best surf rod for accurate casting? Well, then you are better off with the Shimano Tiralejo, which literally means 'to cast the furthest'.
Its guides have a sturdy 'X' shape design
2 pieces breakable
Designed for PowerPro
5. Okuma Citrix Travel Rod 4pc Spinning rod:
Want the best surf casting rod that is highly portable? Meet Okuma Citrix Travel surf Rod that can be broken up and stored into 4 pieces.
Lightweight design with EVA grips
Stainless steel guide frames with Zirconium inserts
Reel seats by Pac Bay Minima
6. KastKing Blackhawk II Telescopic Fishing Rod:
One of the best surf casting rods that have ample support for line and a very durable build with an elegant finish. Some features of KastKing Blackhawk II are:
Telescopic design that expands with a single pull
Graphite reel seats and steel guides can use in any type of fishing
Superior high-quality build with EVA handles
7. Sougayilang Portable Spinning Telescopic Fishing Rod:
Another top-rated telescopic sift fishing rod that can expand into a full-size rod and shrink down to an easy-to-carry size. Some main features are:
The corrosion-resistant aluminum real seat
3-point welded stainless steel guides
24-ton carbon and e-glass composition makes it lightweight
Surf Casting Rod
vs

. surf Spinning Rod:

The main difference between both is control when casting. The spinning rods offer greater control to people who want fast action, to catch smaller fish. And it is ideal for beginners.

On the other hand, surf casting rods are more durable and can be used to catch bigger fish, more advanced anglers find them better.

You might also like:
tica ugsa series surf spinning rod
ugly stik surf spinning rod
okuma longitude surf graphite composite blank
Recommended Surf Fishing Gear for Beginners (BEST Beach Fishing Arsenal Essentials)
PLUSINNO Fishing Rod and Reel Combos:
KastKing Fishing Tackle Bag:
Stainless Steel Rod Stand surf fishing Rod Holder for Bank Fishing:
Piscifun Aluminum Fishing Pliers Braid Cutters:
Saltwater Fishing Lures Surf Fishing rods:
Top-rated surfcasting reels:
Looking for the best surf rod for distance casting? Well, then you are in luck because we have assembled a list below just to help you find your perfect match.
Best surf rods for the money:
If you are someone who prefers getting maximum value for the money then you are not alone.
We also look for deals that offer the highest bang for the buck, which is why we have listed the best shore fishing rods for the money below:
Best travel surf fishing rod:
If you are going on vacation or a camping trip but don't want to miss out on the angling rod action then the Goture Travel Fishing rod is just what you need.
---
Recommended surf fishing rods and reels:
If you're stepping your toe into the ocean of fishing then you need the best surf rods matched with reels right from the get-go.
We have made a list of such rod and conventional reel combos that you will find very efficient and user-friendly.
Commonly Asked Questions about fishing surf rods (FAQ)
What is the best length for a fishing surf rod?
If you are catching small-medium size fish, sharks, and rays, 7-9 feet is perfect. For other types of catch in surf fishing, 9-12 feet is recommended. However, if you are going for long casting, 12-15 feet is what you should aim for.
What Surf Fishing gear to use for Striped Bass?
Catching striped bass is not difficult if you have the right gear. We recommend going for an 8 to 10 feet surf rod coupled with a spinning reel with a 30lb rating and lure handling of up to 4oz. We suggest going for a reel that has a sealed drag, or at least, it should be water-resistant.
What color line is best for surf fishing?
If you are fishing in clear water, get a clear monofilament fishing line as it will be nearly invisible to the fish. However, for other types of water that might be dirty or have a color instead of a clear appearance, you should get a green line as it blends well with colored water.
Can I use a 7-foot rod for surf fishing?
Yes, you can use a 7 feet rod for surf fishing but remember, it is just the starting point of the rods that should be used for surf fishing. Furthermore, do not expect the rod to catch bigger fish, you will only be able to cast closer and catch small or at best, medium size fish.
What is the best time for surf fishing?
Generally, the best time for surf fishing is considered 2 hours right before dusk and from dawn to around 10 am. This is the time when the fish feed so they are more exposed and more willing to catch on to the bait or lure. However, ask the locals in the fishing area about the timings, and you might find even better, more precise timings. 
Will braided line damage my rod?
NO! This is absolutely a myth and it DOES NOT damage the rod. It DOES NOT damage the guides and also it DOES NOT damage the reels. The only difference between the other lines and braid is that you should loosen the drag to hook and land the fish more effectively.
Is a 10-feet rod good for surf fishing?
Yes! A 10-feet rod is the best surf casting rod if you want something lightweight and you are not targeting bigger fish or casting at very long distances. You can still catch the lies of sharks, redfish, and pompano. We suggest using a rod holder if you are planning to catch such fish.
What size hooks for surf fishing?
There are different sizes of hooks ranging from 12/0, which is the largest, to #24, which is the smallest. However, for surf fishing, the most commonly used hooks have sizes ranging from 12/0 to #4. You can use the hook size depending on the fish species you are going after.
Is mono or braid better for surf fishing?
Braid is better for surfcasting because it doesn't degrade from UV rays, it has more strength, offers faster sinking, and has greater sensitivity as compared to mono. You will find more capacity and strength per diameter with braid as well.
What test line should I use for surf fishing?
As described above, braid is best for surf fishing, which is why we would suggest that you go for it as your test line. Also, get 20 to 25 test lines for better results in different conditions.
Conclusion:
When opting for the best surf fishing rod, keep in mind the essentials like durability, sensitivity, comfort, fast action, and portability. You will be able to get a bang for your buck this way. And since we have already mentioned the best surf spinning rod brands above with these features, you don't even have to search for them on the internet.
Related Articles you may love to read:
You might also like:
tica ugsa series surf spinning rod
ugly stik surf spinning rod
Okuma longitude surf graphite composite blank