Do you want to catch grass carp? Grass carp are some of the most sought-after fish in North America. They're large, powerful, and beautiful creatures that can be caught all year long. But they don't just swim around waiting for a hook – it takes skill and know-how to bring one in!
That's why we created this ultimate beginner's guide who want to learn how to catch grass carp.
We cover everything, from where and when to fish, what gear is best suited for your needs, how to bait your line, and more!
You won't find another guide like this anywhere else on the web.
It will give you all the information you need so you can start catching these fantastic creatures today!
If you follow our tips, there's no reason you shouldn't have success catching grass carp right away. So keep reading!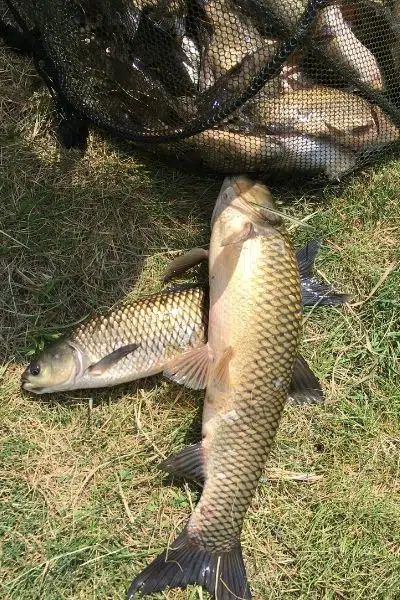 Many people want to catch grass carp, but they don't know-how. If this sounds interesting, then take a look at our complete carp fishing tips for more information!
What is a grass carp?
Grass carp are large fish that are native to Asia. They have been introduced in North America and parts of Europe, often used for recreational fishing purposes.
Grass carp can reach weights of up to 100 pounds when they become fully grown, and they can be huge when they are young as well. Their average size is around 30 lbs, but you can find them as small as 1 pound.
Grass carp are gigantic and powerful creatures that can be caught all year long. They don't just swim around waiting for a hook – it takes skill and know-how to bring one in!
Grass carp are not dangerous, but they can be huge, so you need to learn how to catch them properly and safely.
The name grass carp suggests that they will only eat things from the grasses on the bottom of the water. However, this is incorrect, and they will eat any food that you offer them. They love to eat everything from tiny insects to whole fish.
Their preferred food is vegetative matter, and they even compete with native trout species and other larger predators for food sources in the water.
Grass carp are also very hungry in the spring when they spawn in shallow water. They will literally eat anything entering their area, where many anglers come in with their carp fishing gear.
Are grass carp hard to catch?
Grass carp can be very hard to catch. You need the right equipment and a good strategy if you want to land them consistently.
But we'll show you everything – step by step – so all you'll have to do is put it into practice and watch the grass carp come running!
We spend many hours fishing each week, and we test each of our equipment before deciding if it's good enough to be included on this website.
Read the reviews before placing your order, and make sure that whatever product you choose is right for you!
Bestseller No. 1
Bestseller No. 2
Find The Missing Trophy!
Amazon Prime Video (Video on Demand)
Jeff Roach (Director)
English (Playback Languages)
English (Subtitle)
Bestseller No. 3
Bestseller No. 4
Bestseller No. 5
Tiny Temple Abode
Amazon Prime Video (Video on Demand)
Andrew Pifko (Actor)
Chris Dorsey (Producer)
English (Playback Language)
How big do grass carp get?
Grass carp are a type of freshwater fish known to have been introduced into many countries for industrial uses. These large herbivores can grow up 48 inches long and weigh more than 20 pounds, but they mainly eat plants – not meat!
Grass carp can get very big! The giant grass carp ever caught was in Illinois, USA, and weighed in at over 100 pounds. That's heavier than most men!
The average grass carp will be somewhere between 30-50 pounds. Most of the giant ones are females.
Fishing for big, female grass carp can be fun because they'll put up a good fight! But if you want to catch the biggest grass carp, you should focus on catching small ones. In most cases, smaller fish bite better!
How do you target a grass carp?
The perfect way to catch a grass carp is with floating baits! Bread, chunks of bagel, or any other type will do.
If you want them on the hook more than once, though, try using chunkier lures such as cheeseburgers and hot dogs- they stay afloat better anyway, but if there's no meat in sight, then it may be worth trying pepperoni slices instead because they last longer.
You've got to ensure your baits stay afloat because carp often go for the first piece of bread they see – and if it sinks, then the carp will most likely swim away to find something else.
Grass carp are pretty smart, so targeted fishing will usually get you the best results.
Fish in areas where they're known to be found and try using different types of bait until you find something they like.
What's the best bait for grass carp fishing?
Since Grass Carp are herbivores, you can bet that they love veggies! However, what anglers commonly use to catch these fish might surprise even the most seasoned fisherman.
They use sweet corn or cherry tomatoes for bait balls made out of bread crumbs mixed with canned corn and earthworms; other options could be freshly cut Grass from a swampy area or even oats.
Bread is also preferred, but some people like to use the small round Italian bread that children enjoy on their sandwiches. They also try to use dough balls made of bread crumbs, flour, and water.
Bait selection is essential because some grass carp are pickier than others. The best option will depend on the area where you're fishing and what type of fish you want them to be attracted to most.
How deep can you catch grass carp? (grass carp fishing depth)
Grass carp can be caught in any depth of water.
However, the best catch rates will be in depths between 3-6 feet deep. This is because grass carp are bottom feeders, so if you're fishing in areas of shallow water, they will be able to reach the bottom where they feed quickly.
Banana lilies and water hyacinths can be a good food source for grass carp, so if you're fishing in depths of 5-8 feet deep, you can expect to find more of them.
What is the best method to catch carp?
Free-lining is the easiest way to catch carp. It's also one of my personal favorites because it doesn't require any special equipment or skills; all you need are some bread, an 8 weight rod (10lbs if possible), and 10 yards of line on your trusty bobbin reel!
The only requirement for this technique – other than knowing how well baitfish like their lunch –is that they're near land so we can get right into position when our target bites.
The best time would generally fall within two hours after sunrise until noon due mainly in part to the fact that the fish are still out feeding, but their metabolism is starting to slow down.
I'm not saying you can't catch them later in the day because you can. I just find that this doing well for me.
I prefer to use five or six-foot light action telescopic rods and reels. When you're fishing from a boat, it's best to use longer poles so you can place the bobbers as far as you need them to be with clear visibility of the fish.
Grass Carp generally eat bread and don't take plugs very well, so if you want to get creative with your presentation, try using a fly instead. They do seem to like them better than any other type of artificial lure.
Once you have your rig set up, tie the line onto the swivel, followed by a three-way snap shackle so you can handle your line more quickly.
Place the bobber ten to twenty feet behind the hook, depending on how deep they are, and place the hook through the bait, so it's about an inch or two under the surface. Ensure to leave a bit of room between the bobber and the hook so you don't scare the fish away.
With this setup, you can cast out to where they are feeding around grassy slopes or near lily pads and wait for a bite.
What is the best time to catch grass carp?
You must be familiar with the best times to catch Grass Carp because they're out feeding in the morning when it is bright enough for them to see their food.
Aside from that, they're more active in the morning than the evening and tend to be sluggish and slow when there's not enough light.
So how do I catch grass carp?
Grass carp live in large schools throughout their lives, but they also spend a lot of time near the bottom of the water. As this is true, it's important to be aware of your surroundings and what kind of structure you're fishing.
The best areas to find grass carp are near aquatic vegetation, fallen trees, lily pads, and grassy slopes. These places provide them with more cover and a good chance to feed without being seen.
How to catch grass carp on fly?
Grass carp fishing can be challenging, especially if you are new to the sport.
This video tutorial will teach you everything you need to know about catching grass carp on the fly. It'll walk you through all of the basic steps for catching this fish on your next trip out with tips and tricks. 
That has worked for me over many years of experience as a professional angler. 
When it comes to fishing, there is always more than one way to accomplish a task. The following valuable information has been gathered from my personal experiences and those shared by other fishermen who share similar tactics and strategies in their day-to-day lives while pursuing these elusive creatures.
If you follow the valuable advice outlined in this video series, then we guarantee that your success rate will improve dramatically!
How to catch grass carp with corn?
Grass carp are a very invasive species of fish. They eat the food that native species need to survive, and they can even destroy entire ecosystems if left unchecked.
There is no way to dispose of grass carp from your favorite fishing hole, but there is a way you can reduce their numbers dramatically! 
If you have a pond or lake in your area that has been infested with grass carp, then this video will show you how to catch them using corn as bait. You don't need any special equipment or bait for this method – just some corn kernels and patience!
This technique works best when the water temperature is between 50-65 degrees Fahrenheit (10-18 Celsius). It's also important to make sure that children and pets are not near the water while you're trying to catch these fish.
How to catch grass carp with bread?
There are various practices you can go about catching these fish using bread as bait. In this video tutorial, you will learn how to catch grass carp with bread.
The first way is the easiest and the most effective one, but it requires a little bit of preparation beforehand.
It would be best if you start by getting some frozen bread from your local grocery store or bakery and cutting it into small pieces that measure between 3/4″ and 1″.
Then, put those pieces in a plastic bag before putting them back in the freezer for at least two hours.
This way, they'll be easier to handle once you're ready to use them as bait since they won't freeze together into an unusable block of ice. After that's done, all there's left to do is head out fishing!
How to catch grass carp in the UK?
Carp fishing in the UK can be gratifying if you know where to look and what exactly you're looking for.
Finding your ideal location will only happen after you have researched the local environment, which means that you should know what kind of ponds, lakes, and rivers are available in your area.
Once you know the location of your ideal fishing spot, you will need to find out when the carp will be spawning.
Carp typically spawn in very similar conditions to that of Salmon, so if you can find out when Salmon are spawning in your area, you should have a decent idea of when the carp in that particular location will be spawning.
Can you catch grass carp at night?
If you are searching for a definitive guide on catching grass carp, this video is the answer. It will teach you everything about catching fish at night and make sure that you take home your limit every time!
Grass carp are nocturnal feeders, and that means they will be more than happy to accept your bait and take a nice big bite out of it as they approach your hook at night.
This technique is a very effective way of catching large carp without having to use any extra equipment.
However, it would be helpful if you noted that there are some shortcuts that the carp use to get an early start during their feeding frenzy at night.
Since they will be moving towards your hook in the dark, you must illuminate the water by using a bright light that will not disturb the other creatures that are still out there.
How to catch grass carp with boilies?
Boilies are a trendy type of bait that you can use to catch a wide variety of fish, including grass carp. In this tutorial video, you will find out how to catch grass carp using boilies.
The first thing that you will need to do is prepare your bait according to the instructions on the label. If they are not pre-packed, then you can use a simple recipe to make your boilies.
First, you will need to mix the fishmeal with flour and spices. If your boilies are for catching multiple fish species at once, you should consider using a blend of spices instead of just one type.
Before mixing the mixture together, make sure that there are no lumps in the mix and that the water you are using is at room temperature.
Once your boilies are ready to be used, cast them out and wait for the fish to approach your hook.
Commonly Asked Questions about grass carp fishing (
FAQ

)
What bait to use for grass carp? (Grass carp food)
Carp is a very versatile fish that will readily accept just about anything that you can throw at it as bait. While some people do catch grass carp using bread, this is a technique that should only be used when fishing for native fish in areas with no carp.
When fishing for carp, boilies will be one of the best options you have at your disposal. If you are Economically, then the bread is a safe option since carp do not have discerning taste and will readily accept bread as a food source.
While it's true that carp will eat almost anything, some types of food will catch their attention better than others due to the smell and texture of the food. For example, bread is not very smelly and doesn't float on the water. Instead of bread, you should consider using boilies or even worms as bait.
What time of day to catch grass carp? 
The best time to catch a lot of grass carp is at night. They are nocturnal feeders and will be very happy to take a bite out of your bait.
How to catch Grass carp harvest town? (harvest town fishing tips)
Grass carp can be caught in Harvest Town Lake using two methods. One of the most effective ways to catch grass carp is by throwing out boilies. The other method involves the use of bread or pellets that are thrown into the water to attract them towards your hook.
However, unlike bread, boilies will provide you with much more action since they provide the fish with a food source that they can easily see and identify.
What does grass carp eat?
Like most fish, grass carp will readily consume just about anything that you can throw at them as bait. While some people do catch grass carp using bread, this is a technique that should only be used when fishing for native fish in areas where there are no carp.
Can you eat grass carp?
Grass carp are commonly eaten in China and parts of Europe, where it's often fried or boiled and served with a sauce. The fish meat is very tender, particularly in younger carp. The main benefit of grass carp over common carp is their availability since they are much easier to find where they're stocked for recreational fishing.
How many grass carp are in a lake? (Grass carp population in a lake)
In an ideal grass carp habitat, there should be at least 15 fish per acre of water. In order to maintain this number, the number of grass carp introduced should be at least 20 per acre.
If you are catching more than 15 fish per acre, then it is time to reduce the number of grass carp in your lake.
Conclusion
We hope this guide has been helpful and that you are now armed with the knowledge of how to catch a grass carp. There is not required to be intimidated by catching these fish, as they can usually be caught in less than 10 minutes!
The bottom line is that catching grass carp can be easy if you know what to do! Here are some tips for beginners. -Catch them with these simple steps (A Complete grass carp fishing guide for beginners). Although it may seem like a challenge, catching one fish is not difficult when using the right bait and technique.
You might also like: